Ena Ruby Murphy
(1908-1995)
Basic information about this person: click here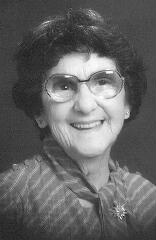 Ena Ruby Murphy, circa 1985
Ena Ruby Murphy was born on 6 September 1908, the second of three children born to George Charles Reed Murphy and Ellen Ruby Bowen. Her life was touched by tragedy at the tender age of 4 when her mother died of enteric fever and a perforated intestine at the age of 29. Ena, her older brother Jack and younger sister Leila were given over by their father into the care of their widowed maternal grandmother, Ma Bowen (Alice Clarkson Poulton). The three of them were raised by her, alongside their uncles and aunts, with whom they formed very close bonds.
In those days there was no welfare and, with Ma Bowen a widow, times were very hard. It was necessary for this extended family to support one another through a very difficult time. For example, Ena's older brother (Jack) paid for her to attend boarding school in Parkes for a year. The  family was very close for several generations afterward as her children and grandchildren learned from Ma Bowen's experience.
Read how the family lived in the years before, during and after World War I in Ena Ruby Murphy's account of her childhood in Ma Bowen's care.
In 1918, at the age of ten, Ena became ill and was sent to Sydney for a few months to convalesce at Hurlstone Park with her father's sister, Nora Lillian Murphy (Aunty Lil) and paternal grandmother (Prudence Murphy nee Reed). Aunty Lil's husband was away at the war at the time. Her father's other sister, Aunty Kate (Lila Kate Moller nee Murphy) lived next door.
After leaving school, Ena worked at Hales' department store in Oxley Street, Bourke. Following an argument with her Uncle Con's wife (Aunty May), Ena moved to Sydney to live (again) at Hurlstone Park with her father's sister and mother.  Leila came too, but only stayed a week. Ena, however, stayed for several months and always looked back on this time in her life with fondness. She especially recalled the dances that she attended in places such as Marrickville Town Hall. No doubt they were fun affairs during the heyday of the "Roaring Twenties".
But soon word came that Ma Bowen was ill and Ena hurried back home to Bourke. She got her old job back at Hales, but a few months later Ma died on 27 November 1927.
Ena had been engaged to Halvar Roy Kessey since before her sojourn to Sydney. After Ma's death, she moved in to the Oxford Hotel that was run by the Kessey family. She and Halvar were married on 29 October 1928; the groom's parents paid for the wedding.
By the time Ena and Halvar's first child (James Anthony) was born on 31 March 1930, they were living with Halvar's parents at 13 Sturt Street. Halvar's father was Mayor of Bourke and was involved in an incident with disruptive elements in the town (see Bricks at dead of night). Bricks were thrown through the bedroom windows of the house and one landed in the baby's cot. Fortunately he was sleeping in a cooler part of the house at the time.
After this incident, Halvar's parents decided to get away from the trouble and strife; they visited the old country: Ireland. After several months away, Halvar's mother felt that all was not well at home and urged her husband to return. She was right.
Ena's son, Jim, had contracted meningitis, along with 13 other babies in Bourke. Twelve died and the doctor had resigned himself that Jim would suffer the same fate. Mrs Polson, the hospital Matron, suggested that they try a new technique: the intravenous drip. The doctor agreed that it was worth trying and could do no harm. Jim was the only survivor out of the 13 babies that contracted the illness.
Around this time, Ena and Halvar moved to a house on the western end of Hope Street, about two blocks from the Sturt Street house.
The first of three daughters, Halvene Therese, was born on 6 February 1934. She was followed by Carmel Rae (18 August 1939).  During this time, Halvar worked for Hales and Co.
"Grandma Kessey" was a frequent visitor from Sturt Street (a block and a half away) and was very good to Ena. She was in the habit of hitting a golf ball over to Ena's place and would then follow it for a visit!
During the Second World War, Halvar was Mayor of Bourke and, due to his role in civil defence, was not eligible to sign up with the armed forces. Ena was asked to return to her old job at Hales & Co (due to the shortage of labour that resulted from the war). She was able to do so by arranging for her 15 year old niece, Marie Murphy, to move into the Hope Street house to help look after the children. This was also a help for Ena's brother, Jack, who had a very large family.
Marie never went back home; she eventually got a job in Bourke, got married and raised three children. Eventually, she and her husband, Roscoe Turner, moved to Wallarewang where Roscoe worked in the power industry.
Ena had several members of her extended family living with her over the years. After Marie she had her cousins Alice and Joe Williams staying with the family also. Their mother, Ena's aunt Ivy, had died suddenly in 1943. Ena's daughter, Halvene (aged 9) remembers that a large group of family members were sitting in the kitchen in tears. She and Joe Williams (aged 5) were sitting on the step. Halvene asked Joe why everyone was crying. He replied simply, "Mum died".
Alice and Joe stayed with Ena while they attended school. Alice later left school and got a job in Bourke and continued living with Ena's family. Alice and Joe's brothers Pat, Con and Jack also lived with Ena's family at times.
After his father died in August 1944, Halvar bought the Sturt Street house from the estate and the family moved in with his mother. Soon after, Ena had a third daughter, Penny Patricia, on 18 March 1945.
Halvar and Ena lived at 13 Sturt Street until after his retirement in 1970. It was a large house, with 4 double bedrooms, a large lounge room, a large kitchen - dining room and a huge "arcade" room in addition to large front and back verandas.
Ena helped the family to make ends meet by taking in boarders; she turned the western end of the side veranda into a makeshift bedroom (to supplement the four double bedrooms)! In addition, at various times she had her married daughters, Halvene and Carmel, and their families living in the house.
When her children were grown, Ena returned to paid work. She worked in a dress shop for some time and then worked for her son-in-law, Bruce Fleming at the Ampol depot office.
Ena and Halvar enjoyed playing bowls and regularly travelled to Sydney for the "Country Week" carnival. They were also keen social card players, as were all the Kessey clan.
When Halvar retired, Ena decided that they should sell the Sturt Street house and live in something smaller. They moved to a small house in Tudor Street. After Halvar's stroke, they decided to move into a retirement village in the Illawarra district, near their daughters.
Halvar died in 1981 and is buried in Wollongong. Ena lived in the area for another 14 years. Her strength left her as she moved into her mid-80s and eventually she was admitted to a nursing home in Bathurst where she died a few months later on 16 October 1995. She is buried at Bathurst.
Her grand-daughters Jenny Hull and Peta Fleming wrote the following poem that was read at her funeral.
           To Our Nan
A remarkable woman
For whom we all cared
Who brought joy to our lives
A love we all shared.
Her love was so constant
Whatever our wrongs
Her feelings we knew of
Her love for us strong.
This woman we speak of
A grandmother true
The most wonderful grandmother
Ena Ruby is you.