Frances Kemp
(1859-1943)
Basic information about this person: click here
Frances Kemp was born at Drill Station, near Mudgee on 7 July 1859. Her father was William Isaac Kemp, a blacksmith and station hand who worked on a number of stations in the Central-West of NSW. Her mother was Emma Mary Elliott, a 19 year-old emigrant from England. Emma's parents had been married for two and a half years and already had a son, William.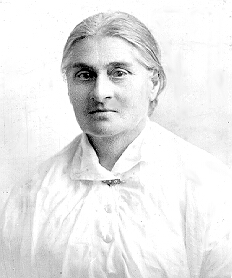 Frances Kemp
During Frances' childhood, the family moved frequently because of the itinerant nature of her father's employment. It was a hard life because Frances' mother was always busy with a new child. She had 16 altogether, the last of whom was born when Frances was 22 year old.
Frances became pregnant at 18 years of age and gave birth to a boy whom she named Edgar on 26 November 1877. He was born at Bokemar on Werri Werri Creek, but the identity of his father is not recorded.
Six years later she had a daughter, Frances Elizabeth who was nicknamed "Tolla" throughout her life. Again, the identity of her father was not recorded.
On 8 November in the following year, 1884, Frances married Attwood Charles Gardner in St Barnabas Church, Coonamble. He was a rural worker like her father. The union produced ten more children: Attwood Charles (1885), Bertha Ada (1887), Emma Mary (1889), Amy Laura Emily (1892), Clara May (1893), Vida Robina (1895), Georgina Jane (1897), Nora Olive Lavina (1900), Albert and Daisy Una Geraldine. Frances and her husband obviously had a talent for children's names!
Frances' many grandchildren knew her as "Granny Gardner". She died on 10 May 1943 in Coonamble District Hospital, aged 84. She is buried in Coonamble cemetery.