Stella Jolliffe
(1910-2006)
Basic information about this person: click here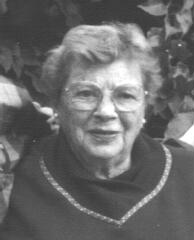 Stella Jolliffe 1910-2006
Stella Jolliffe was born on 1 May 1910 at Cowra, although her parents lived in the nearby Canowindra district. Her father, James Jolliffe was a shearer and farmer and her mother was Amy Laura Emily Gardner. Stella was the eldest child, followed by Merle (1911), Isobel (1913), Wilf (1915-1992) and Brian (1924).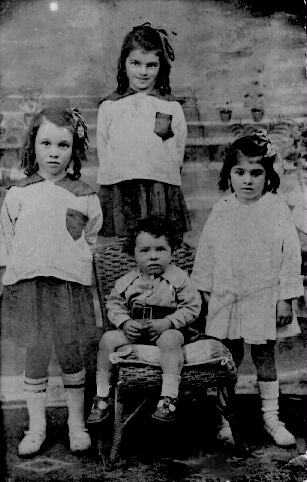 The Jolliffe siblings c.1916
Stella, Merle, Wilf, Isobel
Stella's early years were spent on her father's farm "The Angle", situated on a bend of the Lachlan River near Goolagong. One of her earliest memories is of driving her pony-pulled cart to school every day.
Three months before her nineteenth birthday, Stella married Reginald Angus Fleming in her home town of Canowindra. He was two years older than Stella and worked in the Canowindra branch of the Union Bank of Australia. Reg was transferred to Young, NSW soon after the wedding and it was there that their first son, Bruce, was born on 7 September 1929.
When Bruce's younger brother, Jim, was born six year later, the family was still living in Young, but moved to the Sydney suburb of Kingsford in about 1936. Two years later, the family moved to the beach suburb of Maroubra.
The young family survived the Great Depression years reasonably well because Reg had a reliable job in the bank. Unfortunately, Stella's marriage was under strain. The onset of war brought additional strains, particularly as Reg joined the army and served overseas in the Middle East and New Guinea. They were divorced in 1942.
Stella married Jan Willelmson during the war but he died a few months later when his ship sank in a storm off the east coast of Australia.
Stella took an overseas holiday during which she met Jacques Pelissot, a diplomat at the French Consulate, in Jakarta. They had met briefly before, in Sydney. They married in about 1950 and on 19 January 1951 their son, Georges Jacques, was born.
During the next 25 years, Stella, Jacques and Georges were posted to a number of consulates around the world, including stints in Addis Ababa (Ethiopia), Germany and Montevideo (Peru). Jacques was posted to Sydney for the last few years before he retired.
After Jacques untimely death, Stella moved back to her old hometown, Canowindra. She died in 2006 aged 96 years.