Thomas Jolliffe
(1810-1867)
Basic information about this person: click here
Thomas Jolliffe was born at Castle Cary, Somerset, in 1811. His parents were 37-year-old  James Jolliffe and 21-year-old Anna Baker. Thomas'

mother was a Somerset girl, having been born at Evercreech, while his father came from Portesham in Dorset.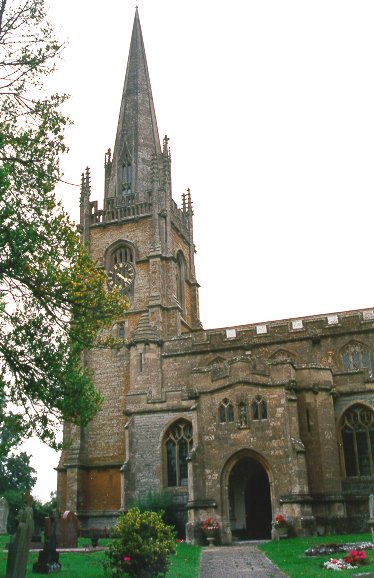 All Saints Church, Castle Cary where Thomas Jolliffe would have been baptised
Thomas had two sisters: Mary, born on 7 October 1816; and Peggy. Nothing is known of Thomas' childhood.
As an adult, he became a farm labourer. At age 17, on 8 September 1828, he married 18-year-old Elizabeth Curry Shepherd at Bristol. She was a native of Marston Magna (Somerset) and the young couple moved to that town.
The first of a large brood of children was born in 1831 and named Mary. She was followed by John (1833), Susannah (1834), James (1837-1837), Elizabeth (1839), Ellen (1843), Arthur (1845), Thomas (1847), James (1849), Sarah (1851) and Robert (1855). It is likely that Thomas and Elizabeth lived with Elizabeth's mother (Susan Shepherd) all of this time. In any case, they were living with her (at residence 17 in Marston Magna) when the 1851 census was taken. Thomas' father James lived at residence 16.
Thomas and most of his family emigrated to New South Wales on the Tartar in 1857, arriving in Sydney on 27 July. It is apparent that the three eldest daughters, Mary, Susannah and Elizabeth were married before this time because they did not accompany the family to New South Wales. Thomas' eldest son (John) was married too, but he and his wife, Selina, also emigrated.
The family settled at Dapto in the Illawarra district, on the coast south of Sydney. Thomas was well suited to farming in the Illawarra where rainfall is much higher than the average in New South Wales.
After ten years in his adopted land, Thomas died on 21 November 1867 and was buried in the Dapto cemetery the next day. He has many descendants living in NSW today, particularly in the Illawarra and in the Central-West districts.