William Isaac Kemp
(1830-1897)
Basic information about this person: click here
William Isaac Kemp was born about 1830, son of Isaac Kemp (a blacksmith and ex-convict) and Mary (surname unknown).
When he was 26 years old, he met Emma Elliott and they were married soon after, at Wellington on 19 November 1856. Their son William was born a few months later.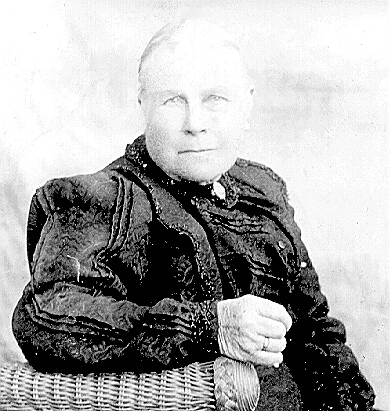 Emma Elliott (Granny Kemp) circa 1880
William's work as a station-hand and blacksmith required him to move around a fair bit over the years of his marriage to Emma. They had a very large family of 7 sons and 9 daughters over a period of about 24 years. After their eldest, William, came Frances (1859 - 1943), Elizabeth (1861 - 1877), Emily (1861 - 1945), George (1862 - 1937), Lucy (1864), Alfred Frederick (1865 - 1949), Henry Isaac (1867 - 1930), James (1868), Sydney Edward (1869 - 1954), Ada Louise (1872), Herbert Ernest (1873 - 1945), Amy Laura (1875 - 1924), Marita May ("Mercella") (1877 - 1949), Clarinda Mary ("Dot") (1879) and Edith Ivy (1881).
It must have been very hard for William and Emma to make ends meet during these years. Nevertheless, William eventually became a grazier in his own right and lived in Coonamble in later years.
He died of cancer in the local hospital on 29 April 1897, aged 67 years, and was survived by 15 of his children. His wife outlived him by well over 30 years and became a well-known identity in Coonamble by the time she died in the mid-1930s. By that time "Granny Kemp" as she was widely known had, in addition to her 16 children, 40 grandchildren, 87 great-grandchildren and five great-great-grandchildren.