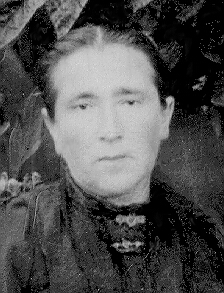 Ma Bowen: Alice Clarkson Poulton 1860-1927
Alice Clarkson Poulton (pictured here circa 1920) was born on 23 March 1860 in Botany Road, Sydney a few weeks after her parents (John Poulton and Elizabeth Clarkson) arrived in Australia on board Fitzjames.
Little is known of her life until she married John Henry Bowen on 20 October 1878 in Coonamble. She had 12 children during the next 22 years before her husband died in 1902 when her youngest (Uncle Bill) was just 2 years old. Her children were:
Thomas Martin Bowen (25 Jul 1879 - c1880)
Albert John Bowen (28 Dec 1880 - )
Ellen Ruby Bowen (16 Sep 1882 - 14 Apr 1912)
James Daniel Bowen (4 Dec 1884 - )
Elizabeth Alice Bowen (10 Aug 1887 - ); Auntie Liz
Ivy May Josephine Bowen (14 Nov 1889 - ); Auntie Ive
John Martin Bowen (25 Dec 1891 - )
Lillian May Bowen (22 May 1893 - ); Auntil Lil
Thomas William Bowen (29 Nov 1895)
Alice Mary Bowen (21 Mar 1897 - c1983); Auntie Min
Cornelius Patrick Joseph Bede Bowen (6 Feb 1899 - c1940); Uncle Con
William Bede Bowen (4 Nov 1900 - ); Uncle Bill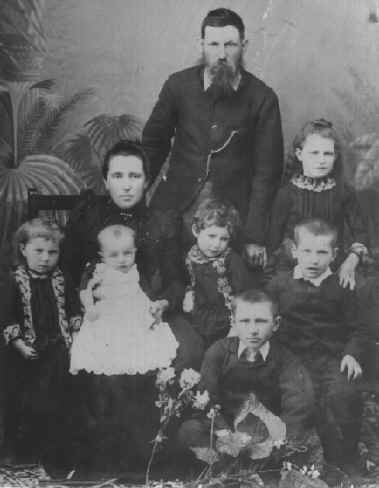 Bowen family portrait circa 1892
Back row: John Henry Bowen, Ellen Ruby Bowen
Middle row: Elizabeth Alice Bowen, Alice Clarkson Bowen (nee Poulton) nursing John Martin, Ivy May Josephine Bowen, James Daniel Bowen
Front row: Albert John Bowen
Ten years after her husband died, in 1912, tragedy struck again as her daughter (Ellen Ruby Bowen) died of typhoid leaving Ma to rear three young grandchildren (Jack, Leila and Ena Murphy) in addition to several of her own children who were still at school.
In those days there was no welfare and, with no husband, times were very hard. It was necessary for this extended family to support one another through a very difficult time. The family was very close for several generations afterward as as her children and grandchildren learned from Ma Bowen's experience..
Read how the family lived in the years before, during and after World War I in Ena Ruby Murphy's account of her childhood in Ma Bowen's care.
Alice Clarkson Bowen (nee Poulton) was 67 years old when she finally passed away on 27 November 1927. She is buried in the Bourke cemetery.
My essay The Clan Keeper is about Alice Clarkson Poulton.