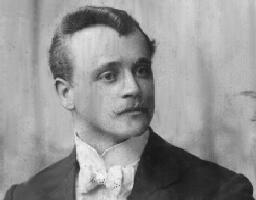 Charles Taylor Fleming
Charles Taylor Fleming was born on 27 December 1878 and named for his father (Charles) and his paternal grandmother (Elizabeth Taylor). His father was an iron moulder journeyman at the local foundry and his mother, Margaret Ballantyne had worked as a steam loom weaver prior to he marriage a year earlier.
A few months before his fifth birthday, Charles embarked aboard Eastern Monarch with his parents as an emigrant to Australia. Innocent of the dangers inherent in ship voyages, he revelled in the new experiences and excitements that abounded during the voyage. He had a lot of freedom aboard the ship, especially after his mother gave birth to his brother, William, about three weeks after the ship sailed. His antics saw him become a favourite of the ship's crew. His father recorded:
little Charles ... has scarcely ever been out of mischeaf all the journey, it is laughable to see him with some more children pulling at the ropes and singing fare you well my bonnie young girl we're bound for rhyo grand, he has got a line of nearly every chorus of the songs the sailors sings when pulling at the ropes him and the second mate are always good friends and the doctor and captain say he is the plainest little Scotchman they ever heard talk.
On arrival in Australia, the family was forced to spend several weeks in quarantine, living in tents on Magnetic and Ross Islands (near Townsville) due to a measles outbreak on the ship that killed several children. Fortunately, both Charles and William survived.
The family settled in Balmain (NSW) after Charles senior found work in the local iron foundry.
When aged about twelve, Charles started working at Prescotts Ltd, a large produce firm. During the next few years he became interested in football and played with the local club.
By the time he was married (aged 22) to Ada Grace Flowerdew on 16 May 1900, he already had a decade of working life behind him and was well-respected at Prescotts. It is likely that his career success and his imminent marriage are the reasons that he chose not to accompany his parents and siblings when the family emigrated to New Zealand at about this time.
Soon after their marriage, Charles and Ada moved to Orange (NSW) where Charles took up a post in Prescott's new branch.
The couple's first son, Charles Gordon was born in December 1900 but only lived for about three months. They had further sadness with the birth and death of an unnamed boy before their first surviving son, Eric, was born on 1 July 1905. Three years later Reginald Angus was born (11 September 1908), followed by Irene Margaret (10 July 1910) and Ada Edna (about 1911).
At the end of 1906, Charles was offered the post of Shire Clerk for the first Shire Council in Orange. He took up the offer and remained in the job until his death. Prescott's awarded him a gift on departure of a mantle clock inscribed with the firm's thanks for his 16 years service.
His colleagues on the Shire Council regarded him as a man of exceptional mental brilliance, with great ability in accountancy and excellent legal knowledge.
Further tragedy struck the family on Anzac Day 1921 when ten-year-old Ada was struck by a car; she died four days later.
In January 1929 his second son, Reg, married Stella Jolliffe at Canowindra near Orange.
Charles was a civic leader in Orange. He was heavily involved in sporting administration (Rugby Union, Rugby League and Bowls), ran the totalisator at the Orange race track and was a popular member of the Masonic Lodge where he was secretary of Court Little John, Ancient Order of Forresters. He held committee positions for lengthy periods with the Orange District Benevolent Society and the Chamber of Commerce. He was honorary auditor of a number of institutions, including the Orange District Hospital.
He took up bowls soon after moving to Orange, possibly influenced by his brother-in-law who was a prominent bowler. Charles was Orange champion bowler on five occasions (1913-14, 15-16, 18-19, 29-30 and 31-32), represented NSW at bowls against New Zealand and managed the Australian team that toured New Zealand in 1934. He was secretary and twice president of the Orange District Bowling Club and was convenor and secretary of the Western Districts Bowling Association.
He was a heavy smoker and suffered adverse health as a result. In October 1936, as he boarded a ship in order to visit family in New Zealand, he suffered a grave malady of the throat with which he and his family struggled until he died on 24 May 1937, aged 58.
The Orange Leader opened a long obituary with the following words:
The ceaseless movement of humanity from time to time brings to a town like Orange a man, who, though he may at first be merely one of hundreds, is destined to rise to great heights of citizenship in our little world, and to pass from among us leaving grief and the deepest respect and gratitude.

Such a man was Charles Taylor Fleming, Clerk of the Canobolas Shire Council and holder of many other offices of high merit in the community, whose sudden death on Monday morning stirred the people of the town and district profoundly.