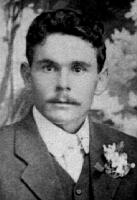 George Charles Reed Murphy, circa 1904
George Murphy was born at Gongolgon (near Bourke NSW) in 1880, son of James Murphy and Prudence Reed. He had an older brother (Daniel Reed Murphy) and an older half-brother from his mother's previous marriage to Joseph Whye. The family was eventually extended by three younger sisters: Nora Lillian, Mary Ethel and Lila Kate.
His diminutive stature and affinity with horses led to George becoming a jockey in his early twenties. At age 24 he married Ellen Ruby Bowen, daughter of the late Bourke shop-keeper, John Henry Bowen. Family lore has it that, on his wedding day, he rode every winner at the local race meeting.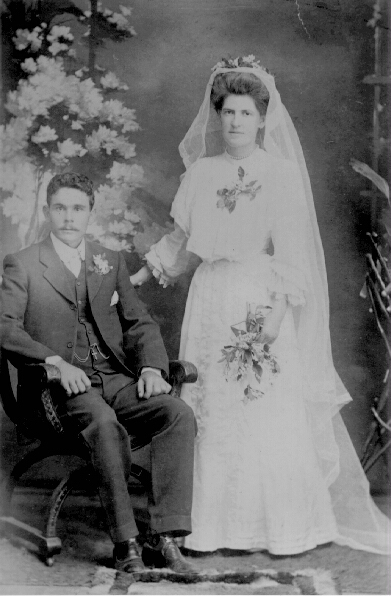 George and Ellen's wedding portrait, Bourke, 1904
They had three children:
John Henry George Murphy (1906 - c1985)
Ena Ruby Murphy (6 Sep 1908 - 16 Oct 1995)
Leila Murphy (1 Jun 1911 - c1991)
Tragically, Ellen contracted typhoid in 1912 and died at just 29 years of age. She is buried in Bourke cemetery. Her three young children were given over by their father into the care of their maternal grandmother, Alice Clarkson Bowen (nee Poulton). Read how this extended family lived in the years before, during and after World War I in Ena Ruby Murphy's account of her childhood in Ma Bowen's care.
Soon, George left Bourke and he spent most of the following years in Queensland. He married again and had more children. Occasionally, but not often, his search for work brought him back to Bourke. His daughter, Ena, recalls her surprise when, at about age 10, she encountered her father in a Bourke shop; she had not known that he was in town.
His second wife, though, did what she could for her distant step-children, including sending money when it could be spared. Unfortunately, she too died leaving young children that were given over to close maternal relatives.
George married a third time, but little is known of his later life or about his death.
George's children from all three marriages were never all together at one time. In fact, George's son Jim (from the second marriage) came to Bourke circa 1975 to seek out his half-sisters Ena and Leila (then aged in their late 60s). It was the first time the sisters had met any of their half-brothers.