Janet Hamilton
Person Exhibits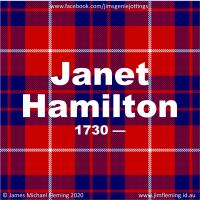 Logo Janet Hamilton 1730
Birth
Janet Hamilton was born circa 1730.
Family life
Residence information
Robert Fleming
and Janet Hamilton lived at Sandford in Stonehouse, Lanarkshire, Scotland, on 10 February 1764.
1
Citations
[S1165] Baptismal Record: James Fleming 1761, Vol Stonehouse, No 656/ 10 106, (7 Jan 1761), General Register Office, Scotland, New Register House Edinburgh
[S1154] "Story: Angus Fleming's origins - by James Michael Fleming", 15 March 2020, James Michael Fleming (4 Currawang Street, Cammeray); Fleming Family History Archive, Sydney.
Click on any citation number above to view details of the source document and, possibly, access an image of the source.