John Leeming
Person Exhibits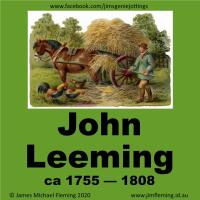 Logo John Leeming 1755
Birth
John Leeming was born in 1755.
1
Family life
Death
Citations
[S1246] Ancestry, Bur: Leeming, John 1808 at Chipping, (Public Record Office, 1808), Parish Regisyer for Chipping, Lancashire.
[S1245] Marriage Certificate, John Leeming and Isabel Dewhurst, 28 May 1781, General Register Office, England, London. Chipping Parish.
Click on any citation number above to view details of the source document and, possibly, access an image of the source.