Sarah Knowles
b. circa 1714, d. 20 April 1791
Person Exhibits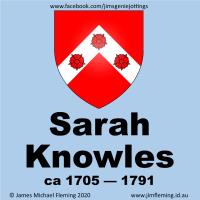 Logo Sarah Knowles 1705
Birth
Sarah Knowles was born circa 1714.
Family life
Death
Citations
[S1440] Marriage Certificate, William Entwistle and Sara Knowles, 20 Feb 1734, General Register Office, England, London. Deane, Lancashire.
[S1452] "Twists and Doubts", 2020, James Michael Fleming (Cammeray, NSW), Fleming Family History Archive, Sydney.
[S1441] Ancestry, Bur: Entwistle, Sarah 1791 at Turton, (Public Record Office, 1791), widow of Edgworth, Burial Register for the Chapelry of Turton, Lancashire.