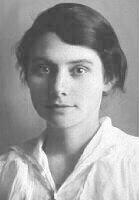 Amy Laura Emily Gardner, circa 1910
Amy Laura Emily Gardner was born at Gum Carwell, Mobala station near Quambone (NSW) on 12 March 1892. She was the fifth of eleven children born to Attwood Charles Gardner and Frances (nee Kemp). Her father was a station hand who worked in the Coonamble-Quambone district.
When she was about sixteen she met her future husband, James Jolliffe, who was nine years her senior. He was a rural worker like her father and became well known in Western NSW for his feats of strength and endurance despite his small stature. They were married at St Paul's Church, Quambone on 26 September 1909. Amy was just seventeen and a half years old. The marriage was witnessed by Amy's elder sister, Emma, and William Boyd. After the marriage the newlyweds went to live at Norwick, Cowra.
It was at Cowra that their first child was born on the first day of May in the following year: Stella. Less than a year later they had a second daughter (Merle born 16 April 1911), followed by Isobel (20 August 1913) and Wilfred James (22 June 1915). Their fifth and last child, Brian Attwood, had to wait a further nine years (born 10 August 1924).
For a period when the children were young, Amy and Jim lived at The Angle, a property in the fertile Lachlan Valley near Goolagong (NSW). In later years they lived in a house in Ferguson Street Canowindra.
On 31 January 1929, Amy witnessed her daughter Stella's marriage to Reginald Angus Fleming at All Saint's Church, Canowindra. Stella was, at eighteen, only a few months older than her mother had been on her wedding day. As a result of this, Amy was only 37 years old when her first grandchild was born (Reginald Bruce Fleming). He has many fond memories of fun holidays spent with his grandparents in Ferguson Street Canowindra. Amy was a great grandmother who delighted in showing her grandchildren the skills of farm life, such as how to preserve various home grown produce such as eggs and fruit.
It came as a great shock to her family when Amy died suddenly (after a short illness) on 23 September 1952 at the age of just 60.