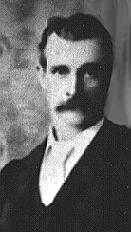 Charles Fleming, 17 February 1854 - 1928
Charles Fleming was born at Coatbridge, Glasgow, on 17 February 1854. He was the second son of Angus Fleming and Elizabeth Taylor who had been married for two years. Angus was a sawyer and a carter or wagoner.
Little is known about Charles' childhood except that he received a reasonably good education. By the age of 23 he had learned a trade, probably after having been apprenticed in his mid-teens. He was an iron moulder journeyman, a trade that he worked at in three countries during all of his working life.
He married Margaret Ballantyne at Dunlop Street, Tollcross (Glasgow) on 28 December 1877. She was a steam loom weaver and, at the time of her marriage, an orphan. Her father, Thomas, had been a baker. The wedding was witnessed by William Fleming (Charles' brother) and Marion Allan.
Charles and Maggie (as he called her) had their first child one day before their first wedding anniversary. He was named for his father and his fraternal grandmother: Charles Taylor Fleming. By this time Charles and Maggie were living at 666 Springfield Road, Glasgow.
Four and a half years later, the family had moved to 690 Springfield Road when the 1881 census was taken. By this time they had a second son, Thomas Ballantyne Fleming. Charles and Maggie shared the house with Charles' siblings Jane (aged 21), Angus (aged 18) and Matthew (aged 15). Charles' mother, Elizabeth had died in January of that year.
Shortly after the census was taken, the young couple's second son, Thomas, died from hydrocephalus acutus. Perhaps it was the grief that flowed from this event that led the family to consider emigrating, which they did two years later.
With Maggie expecting another child, the small family boarded the Eastern Monarch on 20 July 1883 and sailed for Australia. Charles recorded in his diary:
we arrived all safe on board the En Monarch between 3 and 4 Oclock, their was great confusion until we got our births secured, and our beds arranged, we were very fortunate in getting a good birth it is one of the top ones with a window looking right into it, i waited up that night to about 20 minutes from 12pm when the tug began to tough us away then we went to our bed but i got up with my knees on my bed and my face to the window watching the wellknown shore til we passed Rothsey bay i then lay down and slept sound to 5.30am. I got up then and saw the tug leaving us at 6am.
Within a month their third son, William was born (on 13 August). Charles recorded the event as follows:
at 11=20 Oclock tonight i acompanied her to the stair leading to the hospital at half past 10 pm and about a quarter from 12 pm the chief mate despatched a message informing me of what had taken place we are only one days sail from the line if he is spared he can boast of being born this near the centre of the world.
You can read a full transcript of Charles Fleming's shipboard diary in Townsville or Hell!
The ship reached Townsville on the 23rd October after a dangerous and eventful voyage. All passengers and crew were quarantined on Magnetic and Ross Islands for three weeks due to a measles epidemic that had broken out on board as the ship sailed up the Australian coast. Fortunately, neither of Charles' sons succumbed to the disease.
Charles found work at the local foundry but, after a week, he decided to seek work in Brisbane because his skills were not being used at Townsville. He quickly discovered that there were no vacancies to be had in Brisbane and so tried at Maryborough with no luck still. After visiting Maggie's aunt at Gympie, the family returned to Maryborough where Charles accepted unskilled work at the foundry.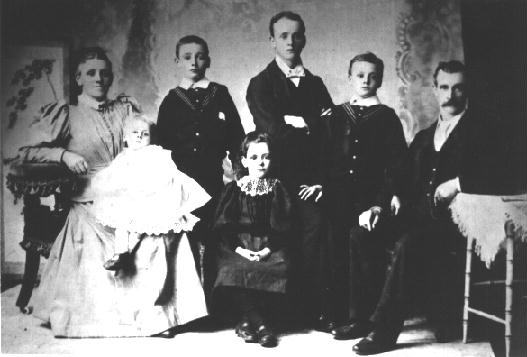 Fleming family group, circa 1893
Maggie with baby Elizabeth (1892), William (1883), Christina (1888), Charles Taylor (1878), Angus (1886), Charles Snr
The family soon moved to Sydney where Charles found skilled work in Sir Samuel Mort's iron foundry. During the next few years, Maggie gave birth to three more children: Angus (1887) was named for his uncle who died in the year of his birth, Christina (1888) and Elizabeth (1892) who was named for her fraternal grandmother.
Family lore holds that Charles was responsible for making the figurehead for the Sydney pilot boat Captain Cook but was incensed that Sir Samuel Mort did not afford him the recognition that was his due. He resigned from his position at the foundry and decided to emigrate to New Zealand.
The family (except for son Charles Taylor Fleming) emigrated to New Zealand in about 1898 or 1900 and settled in the Thames District, where Charles and Maggie lived for the rest of their lives.
Charles died on 17 August 1928 and his wife, Margaret, on 23 November 1930. They are buried in Shortland Cemetery at Thames.