Townsville or hell!
Charles Fleming's 1883 emigration diary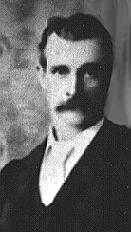 Charles Fleming
The following text is a transcript of my GG-Grandfather's 1883 Diary. It was written by Charles Fleming on board the "Eastern Monarch" during and immediately after its voyage from Glasgow to Townsville (non-stop). He was accompanied by his wife Margaret (Ballantyne) and their son Charles (Jnr).
It was an extremely eventful and dangerous journey. Some of the incidents related below are:
* Day 2 The ship's captain threatens to shoot the first man to disobey him
* Day 3 Ship almost wrecked on a rock
* Day 23 "i compleatly fail in describing to you the seenery this day has displayed"
* Day 25 The Fleming's second son, William, is born
* Day 54 Ship in danger of sinking when cargo shifts during prolonged gale
* Day 94 "i saw him die his poor mother fell back into my arms in a faint" (several children died from disease)
* Day 97 "the the little boy was taken to the iland and burried"
* Day 99 "the fourth mate rushed into the cabin shouting to Captain there was a mutiny on board"
* Day 108 "puting us all in quarrentine"
* Day 108 "i have seena good many coketoes and other beautiful birds but no monkeys"
Click the image at right to see a photograph page 1 of the shipboard diary of Charles Fleming, aboard "Eastern Monarch" 1883 voyage from Glasgow to Townsville
Charles' opinion of the captain changed dramatically as events unfolded:
Day 2: i believe him to be a very pasionate but a good captain
Day 39: and as for the captain I never heard such a swearing fearles man
Day 54: our Captain which i believe now to be a thourough ass
Day 61: the captain who is a drunken empty fool
Day 99: the captain is childish and goes on like a madman
Here then, is the transcript, exactly as written.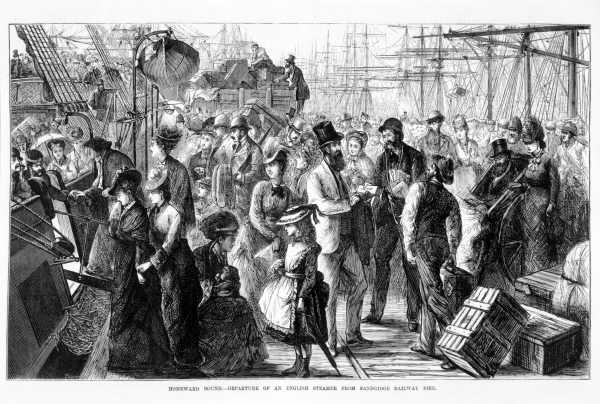 Friday 20th July 1883
My dear Uncle and Aunt after leaving you on friday we arrived all safe on board the En Monarch between 3 and 4 Oclock, their was great confusion until we got our births secured, and our beds arranged, we were very fortunate in getting a good birth it is one of the top ones with a window looking right into it, i waited up that night to about 20 minutes from 12pm when the tug began to tough us away then we went to our bed but i got up with my knees on my bed and my face to the window watching the wellknown shore til we passed Rothsey bay i then lay down and slept sound to 5.30am. I got up then and saw the tug leaving us at 6am.

other Diary
Satturday 21st July 2nd day
After the tug left us we had a good breeze blowing which carried us along the north coast of ireland at a good speed but in the afternoon their was a strong breeze sprung up which lasted all night and there was scarcely a passanger on board but was lying about the deck sea sick, and amongst ourselves Maggie and Charles were very ill i was enjoying a good laugh at them when i was atackted myself with the same, you may form an idea of what we were like when we lay in our bed all night with all our clothes on one incident i may mention i saw one of the sailors disobey the captain he then got into a great pasion and rushed into his cabin and returned imeadiately and as he came i saw in his hand a revolver whith which he swore by the living God he would shoot the first man that would disobey him but the doctor came before him and got him up on the poop, the sailors then went to their work, this was just as the storm had begun i believe him to be a very pasionate but a good captain.
Sunday 22nd July 3rd day
On getting up this morning the first thing we learned was that we had a very narrow escape with our lives about 1am our ship had been only one boat length from a hidden rock when one of the sailors noticed the white foam rising from it, and as we have great reason to thank God the man at the wheel seeing it at same time and without waiting for the word of command brought the ship suddenly round just in time to cleare it, the captain then seeing that the wind was too much against him ordered the ship to be brought back the same way we had gone and go round the south coast of Ireland all the young men were ordered on deck to help the sailors and a good many of them in nothing but their shirt and drawers until the danger was past, we had not much of a sunday owing to the confusion that still prevailed
Monday 23rd July 4th day
On getting up this morning we found the sea very calm and up to late in the aftrenoon we never moved out of the bit but as night came on there was a strong breeze sprung up and then our ship began to plough through the water at a rapid speed.
Tuesday 24th July 5th day
After roling in our bed all night we got up to find our ship labouring in a very heavy sea which lasted all day, we were all sea sick again the whole day and scarcely eat a bit of any thing.
Wednesday 25th July 6th day
We have had a splendid day all through today, having gone at the rate of about 7 miles an hour.
Thursday 26th July 7th day
Lat 45° = 20' N
Longt 10° = 39' W
24 hours sailing today 130 miles this is from 12 to 12 each day this has been a splendid day and we have enjoyed our selves watching the fish in the water and some beautiful birds that have followed the ship ocasionaly
Friday 27th July 8th day
Lat 42° = 44' N
Longt 11° = 59' W Dist 166 miles
another good day, we had a very nice concert in the evening, we have all to take our turn of night watch down below as the sailors are not alowed down I was on this night from 8 to 12 Oclock.
Satturday 28th July 9th day
Lat 40° = 35' N
Longt 13° = 57' W Dist 156 miles
This has been another very pleasant day and endid with the captain and his crew giving us a very nice concert.
Sunday 29th July 10th day
Lat 38° = 12' N
Longt 15° = 32' W Dist 160 miles
This has been a very warm day and we are in a manner right oposit Gibralter we have spent the day very pleasantly in singing Psalms and Hymns.
Monday 30th July 11th day
Lat 35° = 21' N
Longt 17° = 10' W Dist 189 miles
This day has been very warm and has passed very pleasantly in the evening we had another very nice concert amongst ourselves and about a quarter past 9pm the Woman in the bunk next to ours gave birth to a daughter its name is to be Wilamena Russel it is called for the doctor whos name is William Russel.
Tuesday 31sth July 12th day
Lat 32° = 43' N
Longt 18° = 31' W Dist 172 miles
Madeira is 68 miles East of us today. Another very warm day.
Wednesday 1st August 13th day
Lat 30° = 24' N
Longt 19° = 35' W Dist 150 miles
S of Palma S.E. 120 miles from us today. another warm day the heat is increasing very much.
Thursday 2nd August 14th day
Lat 28° = 49' N
Longt 20° = 11' W Dist 100 miles
This has been another very warm day and there has been great bustle and excitement on board all day bringing the passangers chests on deck i was down the hould nearly all day glad of the chance of a good days work.
Friday 3rd August 15th day
Lat 26° = 34' N
Longt 21° = 33' W Dist 153 miles
and has been another warm day we have amused ourselves the most of the day watching the waves which rise to the very edge of the ship and often coming over on deck then the water will go away down almost leaving the bottom of the ship base this seenery is very beautiful to look on, i have got myself drenched a good many times.
Satturday 4th August 16th day
Lat 23° = 18' N
Longt 23° = 34' W Dist 212 miles
We are now in the tropics. this has been another good day with a very warm sun above us, we have seen a great many flying fish today and we very often get them lying about the deck in the morning.
Sunday 5th August 17th day
Lat 20° = 29' N
Longt 24° = 34' W Dist 189 miles
Another warm day and after the church bell was rung the captain delivered us a very nice sermon reading it out of a book which some old gentleman has given him and entreated him to deliver to us its contents.
Monday 6th August 18th day
Lat 18° = 17' N
Longt 25° = 35' W Dist 152 miles
St Anlonio iland 63 miles S.S.E of us another warm day we are almost at a standstill today.
Tuesday 7th August 19th day
Lat 16° = 17' N
Longt 26° = 36' W Dist 126 miles
another very warm day it is so warm now we are gowing about nearly nakid, we get the wind here oftenst at night.
Wednesday 8th August 20th day
Lat 13° = 49' N
Longt 26° = 48' W Dist 148 miles
This is the first wet day we have had it has rained nearly all day.
Thursday 9th August 21st day
Lat 12° = 31' N
Longt 26° = 3' W Dist 89 miles
another extra warm day, our ship is a splendid sailor because every sail that appear in sight although it is on the same line as ourselves we pas it long before night, today we passes 3 barks and met another 2 we are now 2 days past the sun.
Friday 10th August 22nd day
Lat 8° = 38' N
Longt 26° = 22' W Dist 234 miles
another good day with a strong head wind blowing.
Satturday 11th August 23rd day
Lat 5° = 57' N
Longt 23° = 50' W Dist 220 miles
Course S.43°E
this has been a very exciting day, the wind has been very strong and although it has been coming ahead of us our ship dashed through the water at a furious speed i have often looked at the picture of a ship in a storm and wished to be an eye witness to one, but i compleatly fail in describing to you the seenery this day has displayed i have lain over the side of the ship the whole day watching the great waves come rolling on as if they would go right over us, but our ship would rise with the greatest ease on the top to them, and then plunge into the great Gulf below dashing the water from her boughs about the height of herself above us, i wish i could explain to you this sight as i have witnessed it, but my aunt will be able to picture it out, better than i can describe it to you.
Sunday 12th August 24th day
Lat 4° = 7' N
Longt 20° = 21' W Dist 238 miles
Course S.62°E
Another warm day we had a sermon at 10=30 am in the english form from the doctor the day passed very pleasantly.
Monday 13th August 25th day
Lat 2° = 58' N
Longt 22° = 35' W Dist 151 miles
Course S.63°W
This has been a beautiful day and during the day i had the pleasure of seeing a good sized Whale, about 10 yeards from where i was sitting it came to the surface of the water with a great snore and then sunk into the water again, at 11=20 Oclock tonight Maggie gave birth to a son i acompanied her to the stair leading to the hospital at half past 10 pm and about a quarter from 12 pm the chief mate despatched a message informing me of what had taken place we are only one days sail from the line if he is spared he can boast of being born this near the centre of the world.
Tuesday 14th August 26th day
Lat 0° = 45' N
Longt 25° = 42' W Dist 229 miles
Course S.54°W
another extra warm day we expect to cross the line tonight Maggie and child are both well.
Wednesday 15th August 27th day
Lat 2° = 2' S
Longt 28° = 5' W Dist 220 miles
Course S.41°W
This has been a very hot day we would suffer a great deal with the heat but since we come into the tropics we have had a good wind blowing nearly every day, it is very rare to have such winds here, the captain says in all his 33 years experience he does not remember ever having such a good passage this distance.
Thirsday 16th August 28th day
Lat 4° = 54' S
Longt 29° = 16' W Dist 185 miles
Course S.22°W
This has been an extra warm day we met a small schooner named the Ida She was homeward bound and come very close, both spok to each other.
Friday 17th August 29th day
Lat 8 = 7' S
Longt 30 = 8' W Distance 201 miles
The weather here is beautiful i have felt it warmer at home but this is owing to the strong wind we have had, today we sited an american ship, named the alert, it was so far before us in the morning we could only see the top of her mast, and in the middle of the day we came alongside of her and for a short time both ships kept abreast, signals passed between them, then our ship shot past and when night came on we were nearly out of sight and at night we were greatly amused by the sailors selling their dead horse, this means they all get a months pay in advance before sailing and spend it, it is at the end of the first month they sell the dead horse, they all drag it round the deck with a rope, one of them sings a song while all the rest joins in with the chorus, it was sold for 26 shillings at auction, then it was hired up on one of the spars with the rider on its back who climbed on to the spare before it was droped into the water, while this was going on at the stern there was a cask of tar slung over the bough and set on fire, horse and cask were droped into the water at the same time, we watched the burning cask rising at intervals on the top of the waves for a long time.
Week No. 4
Saturday 18th August 30th day
Lat 11 = 14' S
Longt 31 = 24' W Dist 201 miles
another beautifull day and in the afternoon Maggie left the hospitle and came home, both her and the child are doing well.
Sunday 19th August 31st day
Lat 14 = 15' S
Longt 31 = 34' W Dist 181 miles Course S.3 W
another good day, the evening was very squallie.
Monday 20th August 32nd day
Lat 18 = 1' S
Longt 31 = 8' W Dist 228 miles
Trinidad Id S.E. by E. dist. 178 miles. another good day but the evening was very squallie and wet.
Tuesday 21st August 33rd day
Lat 20 = 35' S
Longt 29 = 36' W Dist 178 miles
Another beautiful day, in the morning there was a great rush to get upon deck, the captain having told some there was land in sight, an unpracticed eye to look at it would have taken it for a cloud, it was so far away, but about the middle of the day we came right opposit to it. It was the iland of Trinidad which is a great mass of rock and stands a good height out of the water preseting a very beautiful sight this is the first we have seen since we left the English Channel, in the evening it was nearly out of sight.
Wednesday 22nd August 34th day
Lat 22 = 40' S
Longt 28 = 25' W Dist 140 miles
Another very warm day.
Thursday 23rd August 35th day
Lat 23 = 33' S
Longt 28 = 10' W Dist 56 miles
During last night and today there has scarcely been a waft of wind our ship has lain the whole day rolling about on the swell of the water making it very difficult to walk, Charles has given us a good deal of trouble watching him, because he is either climbing up the ropes or the side of the ship, today he was climbing up the rigging on the main mast and fel upon the deck bruising his head and bleeding he nose which has swelled both of his eyes so much you would scarcely know him. In the morning I had the pleasure of seeing 2 sharks.
Friday 24th August 36th day
Lat 27 = 0' S
Longt 29 = 16' W Dist 126 miles
Another beautiful day. Week No 5
Saturday 25th Augst 37th day
Lat 27 = 0' S
Longt 29 = 14' Dist 98 miles
Another good day, and in the evening another Woman gave birth to a daughter this is the 3rd birth in the ship since we started.
Sunday 26th August 38th day
Lat 29 = 15' S
Longt 28 = 56' W Dist 136 miles
Another good day.
Monday 27th August 39th day
Lat 31 = 16' S
Longt 26 = 14' W Dist 185 miles
This has been a very pleasant day but in the evening we were caught suddenly in a very severe squall, I will try to explaine it to you in a few words, i was lying on the side of the ship delighted with the speed she was going at, when all in a sudden the rain came down upon us in torrents, the wind that came along with it was something terrible, the wind changed so quick it carried away one of our sails before they had time to recover the ship, the captain hearing the roar of the useless sail in the wind rushed out of his cabin and up to the poop followed by the 2nd mate with nothing but his shirt and drawers on, who rushed to the wheel and brought her up to the wind, meanwhile the captain was balling at the top of his voice to bring all the watch on deck, and in an instant the sailors riushed along the deck and in a shorter time than i can tell you they were all divided along the deck to the different sails i joined in with them along with a few more of the passangers and wrought until it was late, it was pitch dark all the time and to see the sailors obey every command so quick in the dark it was realy astonishing, and as for the captain I never heard such a swearing fearles man, the plunging and lurching of the ship was something fearful while the water rushed over on deck in tons, after the most of the sails were hauled in i went down below both wet and tired, we could not sleep much all night the sea was so rough. it has been like summer till tonight.
Tuesday 28th August 40th day
Lat 32 = 45' S
Longt 21 = 37' W Dist 252 miles
On getting up this morning we found the sea to be running very high, about the middle of the day we encountered another squall but not so sudden as the last, the sea continued very rough all day and the sails were taken in again as night came on and wind was increasing rapidly, it has been very cold all day.
Wednesday 29th August 41st day
Lat 33 = 18' S
Longt 18 = 47' W Dist 196 miles
This has been a cold wet squallie day, at times today we have been runing at the rate of 10 to 12 notes an hour, and in about 5 or 10 minutes later we will be lying rolling about in the trough of the waves without any wind, today we went past the ship Carlyle Castle. this has been a quick change out of summer into winter.
Thursday 30th August 42nd day
Lat 32 = 34' S
Longt 14 = 18' W Dist 182 miles
Today has been much about the same as yesterday.
Friday 31st August 43rd day
Lat 33 = 13' S
Longt 10 = 30' W Dist 196 miles
it has been a little warmer today and in the afternoon the doctor caught an albitrose, it measures 7 ft from tip to tip of the wing. this is a small one they are caught with a strong hook and a strong deep sea line. Week No. 6
thickness of hook 1/8 of a inch
Saturday 1st September 44th day
Lat 33 = 30' S
Longt 7 = 12' W Dist 168 miles
Another cold day.
Sunday 2nd September 45th day
Lat 34 = 36' S
Longt 3 = 52' W Dist 178 miles
the sea has been very rough all day and the air very cold.
Monday 3rd September 46th day
Lat 36 = 32' S
Longt 0 = 7' E Dist 232 miles
Last night the sea became very rough which caused the sea to roll tremendously I was on watch from 12 to 4 and it was realy amusing to hear the music of pails teapots and all kinds of tins rolling about between decks and every now and again there was some of the passangers crawling out of their bunks and making there way up on deck to see what was wrong and during the day the sea continued to run higher and often it came over in tons and one young man was dashed from one side of the ship to the other and received a deep gash on one of his legs, there has been some heavy showers of hail today.
Tuesday 4th September 47th day
Lat 38 = 30' S
Longt 5 = 18' E Dist 275 miles
Last night we slept very little as the ship was rolling so much, I have often thought it was exageration about the sea running mountains high, but today we have seen it running mountains high, I have been on the forcastle a few times today enjoying the seenery this day has presented, it was beautiful to stand there and see the great mountains come rolling on behind us as if they would go right over us, but our ship would rise to the top of them like a feather, and as the waves would come along t midships it often came rshing over in great quantities then it was beautiful to see how quick her stern would decend into the great depth below then another would come and her stern rise leaving the bough in the great depth of water, and look up to the great mountain before and behind it was something frightful, and to stand where i was and see her sway from one side to the other and roll over on her side until the water would come over it was realy exciting, it was beautiful to look over the boiling sea every time we came to the top of a wave, my Dear Uncle and Aunt i wish i could give a real account of this scenery, i lead Maggie up to the forecastle to view the scenery, she had to keep a good hold the railing but was delighted with the scenery before her, ropes had to be tied along the deck for us to hold on by, one of the young girls was dashed against the side of the Ship and had one of her legs severely injured, another man was sitting against the cabin on a box when a sea came over washing both him and the box along the deck and carried the box with it overboard, another heavy sea coming i thought to escape it by climbing up the railing on the main mast but it came right over my head giving me a thourough drenching. tow of our sails were carried away, at night the sea stil continued to rage. rain and hail fel heavyly today.
Wednesday 5th September 48th day
Lat 39 = 51' S
Longt 10 = 33' E Dist 258 miles
The weather and sea today has been much about the same as yesterday.
Thursday 6th September 49th day
Lat 40 = 24' S
Longt 10 = 24' E Dist 270 miles
The sea has scarcly run so high today but rain and hail has fallen heavyly, now and again we have shiped some heavy seas.
Friday 7th September 50th day
Lat 40 = 21' S
Longt 21 = 2' E Dist 213 miles
Another wet and cold day the sea has been milder today. Week No. 7
Saturday 8th September 51st day
Lat 39 = 23' S
Longt 22 = 2' E Dist 70 miles
This has been a better day.
Sunday 9th September 52nd day
Lat 38 = 13' S
Longt 24 = 18' E Dist 126 miles
Owing to the roughness of the weather there has been no service held today.
Monday 10th September 53rd day
Lat 40 = 28' S
Longt 25 = 10' E Dist 141 miles
Our ship has been plunging and roling greatly today owing to the roughness of the weather.
Tuesday 11th September 54th day
Lat 42 = 24' S
Longt 26 = 32' E Dist 131 miles
Today our ship has been labouring in a heavy gale which increased in fury all day, During the fornoon i was on deck holdingon by a rope next the cabin watching all that was taking place, to stand there and look along the deck and see the ship thrown upon one side and then another with such force and tons of water roling over on deck every time and to see her plunge and rise so quick you could compare her to nothing but a toy on such water, one man was throne with great force against the side of the ship with his head and was carried to the hospital incensible, about 1 Oclock i went below and was sitting waiting on dinner when we heard a great noise below every time the ship rolled over and upon opening the main hatch an alarming sight apeared before us, our ship is loaded with rails which is a very ugly cargoe, the rails had become loose with the great roling of the ship, you can imaginge rails piled on the top of each other until they form a level floor and nothing straping or jaming them down and a shiproling over until her deck is almost perpendickular this had thrown a great many of the top ones out of the place and you can imagine 4 or 5 divisions with about 40 or 50 tons of loose rails being dashed from staunchen to staunchen and from staunchen to the sides of the ship making her shake all over, for a moment she stoped rolling and the 3rd mate with some men went dwn to try and jam them but were scarcely down when they came rushing up the hatch, and as many deck planks as could be found were throne down acros them, then the captain and the 1st, 2nd and 3rd mate with a lot of the sailors went down and got on top of the planks and more wod was thrown down and flung into the great gaps as the rails were dashed from side to side and a great many of the chests that were on top of the loose rails fel into the gaps and were crushed to matchwod, this lasted until late in the afternoon, and had it not been for the brave men below who mannaged to a certain extent to jam and bind them down nothing could have saved us from a watery grave as the rails would soon have burst the sides of the ship, during the time this was going on a great deal of the rigging had got strained and broken, and it was early morning before the storm abated in the least and i can asure it was alarming to look down and see the destruction that was going on below, and to look on the fact of anxious parents with their children gathered round them and mothers weeping it was realy heart rendering great fear and anxiety prevailed all over the ship until about 10pm when everything was made prety secure, our first mate got his foot crushed and a great many escaped a frightful death by climbing up the staunchions which were bending to one side and then the other like a piece of wire although they were about 4 inches thick, our 3rd mate remained below all night in case anything might get loos again and it was nearly morning before anyone thought of sleep, our Captain which i believe now to be a thourough ass was going aout drunk shortly after the disaster comenced. p.s. you can picture little Charles as happy as a king crying huray and his Mother sitting moaning. our captain when asked to run the ship before the wind answered he would run her to the south pole by god.

Click to see a photograph of the diary entry which describes the storm which put the ship into grave danger
Wednesday 12th September 55th day
Lat 43 = 23' S
Longt 27 = 26' E Dist 85 miles
Last night has been a sleepless night but it is not the first night we have had to hold on by the sides of the bed to prevent ourselves from being rolled out, the doctor has been confined to his bed all day through the anxiety of yesterday and the heavy drenchings with rain and sea, a deputation was sent to him from the passangers telling that the ship was not safe as the cargoe was still threatning to break loos, and he sent 5 men to examin everything stating that if the cargoe could not be secured he would run us into the nearest port and have everything overhalled, an examination was made and everything done to secure the cargoe and alow us to go direckt on our journey and after we had this done we were alowed a good glass of grog, this a very cold day with heavy falls of rain and hail, you may know what kind of a man the captain is when he was staggering about today telling the passangers he would land us in townsville or hell. the wind has been with us today and the sea a little calmer.
Thursday 13th September 56th day
Lat 41 = 51' S
Long 32 = 35' E Dist 218 miles
The sea has been milder today but the weather is cold and wet, the cargoe is stil keeping its place and we are gaining more confidence i have enjoyed the sail and the sights of the sea all along no matter how high the sea was running but i must confess the last 2 days rather shook my confidence and we thought it was all up with us as the boats would not have held the half of us, i think it is impossible that any one at home could give credit to a cargoe shifting in such a frightful manner.
Friday 14th September 57th day
Lat 41 = 30' S
Longt 38 = 2' E Dist 245 miles
This has been a good day but very cold and wet, 4 men examine the cargo every morning and every time the ship has been rolling heavily. Week No. 8
SATURDAY 15TH SEPTEMBER 58TH DAY
Lat 40 = 58' S
Longt 43 = 14' E Dist 268 miles
This has been a good day but cold today the main top gallant halyard was wrecked twice but fortunately no person was hurt and the spar did not come down the first mate told me today he never saw a cargoe put out to sea so badly packed.
SUNDAY 16TH SEPTEMBER 59TH DAY
Lat 40 = 58' S
Longt48 = 14' E Dist 193 miles
Another good day but very cold after the dangers of tuesday was past the 2nd mate alowed it would have been better if we had been drowned on the Irish coast where we would have a chance of being berried in ireland than come out all this length and go down and never be heard of.
MONDAY 17TH SEPTEMBER 60TH DAY
Lat 41 = 53' S
Longt 52 = 20' E Dist 191 miles
The weather is getting warmer now this has been a good day.
TUESDAY 18TH SEPTEMBER 61ST DAY
Lat 42 = 9' S
Longt 57 = 40' E Dist 238 miles
Our ship has been going very steady today which has given us a chance of removing the chests from the main hatch down the after hatch this was done to let the cargo that shifted be thouroughly secured, it was pityful to look at the passangers gathering up their clothes and other goods most of which were cut to pieces and as for their chests a great many of them were broken into matchwood some of them down into the gaps of the rails crushed into pieces, clothes and all, others could only tecognise the tin lille that was on their chest, as for mine my Grandmothers chest has got a good deal of abuse and my Mothers chest is both split and dinged in the front, the captain who is a drunken empty fool told them he would not be responsible for any damage done and that he would not give them a peny, the doctor who is a gentleman on hearing this told him that if he should spend all he had he would see the passangers get justice, the captain was foaming with rage at this but the doctor quietly told him that would do, the cargoe was secured with all that could be got to secure it such as deck planks and broken chests. this has been a good day.
WEDNESDAY 19TH SEPTEMBER 62ND DAY
Lat 41 = 41' S
Longt 63 = 45' E Dist 272 miles
This has been a beautiful day. the sun has been shining all day. Last night Maggie became suddenly ill, the doctor was soon in attendance, today she is much better.
THURSDAY 2OTH SEPTEMBER 63RD DAY
Lat 41 = 20' S
Longt 69 = 8' E Dist 246 miles
Another good day.
FRIDAY 21ST SEPTEMBER 64TH DAY
Lat 41 = 9' S
Longt 74 = 52' E Dist 260 miles
This has been another good day but chily. Week No.9.
SATURDAY 22ND SEPTEMBER 65TH DAY
Lat 41 = 14' S
Longt80 = 8' E Dist 236 miles
Another good day but cold Maggie had the pleasure of falling today from the head of the stair to the foot of it, it is about 14 or 15 ft long, her hench was slightly injured, this is her second fall down, the saturdays pas very quietly here, 2 very large logs of wood floated past today.
SUNDAY 23RD SEPTEMBER 66TH DAY
Lat 41 = 3' S
Longt 82 = 54' E Dist 125 miles
Another good day, we have been lying becalmed nearly all day another large log of wood floated past today
MONDAY 24TH SEPTEMBER 67TH DAY
Lat 41 = 28' S
Longt 82 = 1' E Dist 146 miles
Another good day, the wind has been very strong all day causing our ship to plough along rapidly, sail had to be taken in during the night owing to the increase of wind and some of the rigging giving away.
TUESDAY 25TH SEPTEMBER 68TH DAY
Lat 42 = 30 S
Longt 93 = 2' E Dist 318 miles
It has been very cold today and rain has fallen heavily all day, at 12 am our ship was running at the rate of 12 noats an hour, she has been shipping seas all day.
WEDNESDAY 26TH SEPTEMBER 69TH DAY
Lat 42 = 56' S
Longt 98 = 10' E Dist 227 miles
From 12 oclock to 4 this morning we were laying becalmed and our ship was laying in the trough of the waves all the time rolling so furiously that a great many of the passangers got up and went on deck to see what was wrong, great fear existed mong most of the passangers whenever the ship rolls heavily, it has been very cold all day.
THURSDAY 27TH SEPTEMBER 70TH DAY
Lat 43 = 23' S
Longt 103 = = 40' E Dist 242 miles
This has been a good day and for a sjort time in the middle of the day we were becalmed again, there is a great beating on now about the time the ship will take before landing us.
FRIDAY 28TH SEPTEMBER 71ST DAY
Lat 43 = 40' S
Longt 108 = 57' E Dist 231 miles
Another good day and we are in great spirits now the hope that a fortnight or seventeen days will land us, while Maggie was busily engaged washing on deck today the ship gave a sudden lurch and emptied a bineful of water right over amidst the great laughter of all around, this is a common ocurance on deck. 10th Week.
SATURDAY 29TH SEPTEMBER 72ND DAY
Lat 43 = 5' S
Longt114 = 36' E Dist 246 miles
This has been a dull cold day, at present 6 children are in the hospital with measals.
SUNDAY 30TH SEPTEMBER 73RD DAY
Lat 44 = 6' S
Longt 121 = 10' E Dist 283 miles
This has been a good day but cold, measels are still spreading amongst the children,
MONDAY 1ST OCTOBER 74TH DAY
Lat 44 = 16' S
Longt 128 = 25' E Dist 316 miles
Another very cold day, the ship has been runnig steadily all day.12 notes an hour great beating goes on every day about the 24 hours distance and also about the time it will take before we are landed, the measels are spreading rapidly some more of the children have been taken to the hospital today, 3 of them from the beds next to ours.
TUESDAY 2ND OCTOBER 75TH DAY
Lat 44 = 0' S
Longt 133 = 59' E Dist 240 miles
Another cold day, our progress has been very slow all day.
WEDNESDAY 3RD OCTOBER 76TH DAY
Lat 43 = 47' S
Longt 137 = 6' E Dist 135 miles
This has been a good day.
THURSDAY 4TH OCTOBER 77TH DAY
Lat 44 = 2' S
Longt 142 = 22 E Dist 228 miles
Another good day and we are anxiously expecting to sight tasmania in the morning,
FRIDAY 5TH OCTOBER 78TH DAY
Lat 43 = 42' S
Longt 147 = 30' E Dist 228 miles
This has been both a good and chearful day for us, as daylight broke out this morning the long looked for sight of land appeared on our port side, at first it looked like a cloud upon the waters edge but between 9 and 10 am we came nearer to the southmost point of land, by this time the sun was up and the clouds cleared away from the top of the hills some of them which were very high were covered on the top with snow we also passed very close to two rocks one of them was about half the size of ails of craig the other was a very narrow one they were both surrounded with other rocks under the water and it was a beautiful sight to see the waves which were running very high at the time dashing of the under ones and raising to a great height against the ones that were in sight this is the first land we have sighted since we passed the iland of trinidade and i can assure you it was glorious sight for us to look at we were going to pass very close to it but the wind went down and we drifted so far out to sea for about 3 hours we thought we were going to loose sight of it altogether when all of a sudden the sea changed from a beautiful calm into a one of heavy boiling waves and the wind came howling furiously through the rigging, the change was very sudden and our ship answered to it in splendid stile at first she plunged a good deal this caused the masts and spars to rattle and make a good deal of noise but the sails were soon brought to suit the wind and away we went on our course again, when night came we were a good deal nearer the land again and as we were passing along we saw 2 very large lights, this had the efect of gathering a great crowd to see them, I heard someone saying thank god there is somebody not far away. in the morning birth of a daughter, 4th child. 11th week
SATURDAY 6TH OCTOBER 79TH DAY
Lat 42 = 32' S
Longt 149 = 42' E Dist 120 miles
Another good day, one of the children in the hospital with measels died this evening through croop setting in.
SUNDAY 7TH OCTOBER 80TH DAY
Lat 38 = 32' S
Longt 152 = 20' E Dist 268 miles
At 7 o'clock this morning the funeral took place and a very solemn thing it was the childs body being sewed up on a piece of canvice with a weight to the feet was placed on the end of a board the funeral service was read and the endof the board was raised and the child sliped into the water and imeadiatly sunk, this was at the end of the poop, this has been a good day and we had the pleasure of seeing a beautiful water spout it was a good distance away but it was a splendid sight to see the great volume of water raised up into the clouds.
MONDAY 7TH OCTOBER 81ST DAY
Lat 35 = 32' S
Longt 153 = 40' E Dist 191 miles
This has been a beautiful day, we have been becalmed nearly all day great preperations are being made now cleaning both inside and outside the ship before landing.
TUESDAY 9TH OCTOBER 82ND DAY
Lat 34 = 59' S
Longt 154 = 19' E Dist 46 miles
Another warm day and we have been becalmed nearly all day with the exception 2 hours we had a good breeze which died away again but in the evening it sprung up and continued steadily all night, 2 very large Albitrosses were caught during the day one of them measured 10ft 3 in from tip to tip of the wings the other 10 ft, they were both beautiful birds.
WEDNESDAY 10TH OCTOBER .83RD DAY
Lat 32 = 59' S
Longt 154 = 58' E Dist 194 miles
It has been very showry today, since we left home we have seen some beautiful scenerys in the sky more especially when we were crossing the line as the sun was setting and since we have come into australian waters, it is no use for me to atempt to describe to you the beauty of those scenes because it is entirely out of my power. little Charles has improved greatly and is no read cheeked he has scarcely ever been out of mischeaf all the journey, it is laughable to see him with some more children pulling at the ropes and singing fare you well my bonnie young girl we're bound for rhyo grand, he has got a line of nearly every chorus of the songs the sailors sings when pulling at the ropes him and the second mate are always good friends and the doctor andcaptain say he is the plainest little Scotchman they ever heard talk.
THURSDAY 11TH OCTOBER 84TH DAY
Lat 29 = 3' S
Longt 154 = 58' E Dist 194 miles
It has been very warm all day.
FRIDAY 12TH OCTOBER 85TH DAY
Lat 27 = 40' S
Longt 154 = 58' E Dist 83 miles
The weather is getting very warm now, this has been a very hot day, in the evening another gave birth to a son this is 2 boys and 3 girls, the doctor veccinated our baby and another 3. 12th week.
SATURDAY 13TH OCTOBER 86TH DAY
Lat 27 = 25' S
Longt 154 = 5' E Dist 43 miles
Another warm day, we have been in sight of Stradbroke and Moreton Islands all day beating against a head wind and in the afternoon we came within a few miles of the Moreton Island and had to put about ship and come direckt back again for about 3 hours by htis time the wind had come round a very little and the ship was put about again this time we got cleare of the point we tried before to cleare but it was 12 oclock at night when we got oposite the lighthouse.
SUNDAY 14TH OCTOBER 87TH DAY
Lat 26 = 10' S
Longt 153 = 30 ' E Dist 80 miles
This has been a very warm day and the wind is still ahead of us alowing us only to crawl along the side of double point Island and great Sandy Island and in the evening we tried to get round Sandy cape but the wind was to much ahead of us and we were to close to the land the ship had to be put about and go away out to sea. all along the coast their was nothing to be seen but a forest of trees and every hear and there great columns of smoke this was what you have often heard of the burning of the bush at night the fires could be seen all along the coast.
MONDAY 15TH OCTOBER 88TH DAY
Lat 25 = 48' S
Longt 153 = 59' E Dist 32 miles
Another warm day and the wind is still ahead of us, the doctor sent a bottle of sherrie wine and 2 pounds of flour and 1 half pound of currants to Maggie and the rest of the Mothers that gave birth on the ship, he is very ill himself at present with a poisned hand it has now been lanced 3 times he is very ancious now to get ashore as he is afraid he will lose the hand and perhaps the arm he cannot sleep night or day..
TUESDAY 16TH OCTOBER 89TH DAY
Lat 25 = 22' S
Longt 154 = 42' E Dist 47 miles
another very warm day and the wind is still coming ahead of us.
WEDNESDAY 17TH OCTOBER 90TH DAY
Lat 24 = 53' S
Longt 154 = 32' E 30 miles
We have been lying becalmed all day and the sun has been burning hot the water was like a sheet of glass and between 11 and 12 oclock a few of the sailors and passangers dived from the ship into the water and had a good bath i was very uneasy all the time they were in for feare of sharks and the doctor told them he would not be responsible for anyone that went in as there were a great many sharks about, they were only a short time out when a shark made its appearance and some of the sailors got a large hook and a good strong rope, they put a lump of pork on the hook and lowred it into the water and the shark soon as he got his eye upon it turned over and swallowed it the word was soon passed pull away boys and it was hauled up out of the water them some of the sailors got out over the side and put a hitch with another rope on the tail and ripped its belly open with their knife then it was got over on to the deck of the forecastle and was feled with an axe it was slung up and a great quantity of port taken out of it also 2 young sharks they were put into a tub and swam about, i think the captain intends to preseve one of them, and after the inside and young sharks was taken out of it some of them had a rope in its mouth holding it open while others were pouking out its teeth it was still living and shut its mouth and cut the fingers of one of the men very severely it was all cut into pieces and thrown over board it has two rows of teeth top and bottom and was about 6 feet long, some more were seen,the wind commenced to blow about 8pm a good deal better in our favour than it has been for some time.
THURSDAY 18TH OCTOBER 91ST DAY
Lat 24 = 26' S
Longt 153 = 24' E Dist 68 miles
The ship had to be put about again this morning and go outto sea as the wind was still coming ahead of us, it has been very hot all day you may form an idea of what the heat was like when i could not hold my hand on an iron plate that was exposed to the sun and the tar was spewing out from between the decks planks all day.
FRIDAY 19TH OCTOBER 92ND DAY
Lat 23 = 38' S
Longt 152 = 45' E Dist 60 miles
Another hot day and we are away with a good fair wind.
SATURDAY 20TH OCTOBER 93RD DAY
Lat 21 = 42' S
Longt 150 = 57' E Dist 152 miles
Another very warm day and we are now between the reef and the Ilands that are all along the coast some of them we have a good view of.
SUNDAY 21ST OCTOBER 94 TH DAY
Lat 20 = 28' S
Longt 149 = 22' E Dist 114 miles
Another very warm day and at a quarter to 6 oclock this morning a little girl died about 3 and 1/2 years of age the doctor want tell in the meantime what was her trouble she was berried at 9 this morning and shortly after the funeral another little boy was brought on deck for air and layed in a sling bed and at 10 oclock as i was passing i saw him die his poor mother fell back into my arms in a faint i carried over to the cabin and set her down, water was soon got and she recovered and about an hour after its funeral took place also i stood and saw them both fall into the water and i can assure you it is a pitiable sight to look at here, and in the evening another little girl died about 9 oclock, it is to be berried in the morning, we have passed the day watching the ilandsas we pass and yesterday and today we have seen a graet many sneaks float past.
MONDAY 22 ND OCTOBER 95TH DAY
Lat 19 = 34' S
Longt 149 = 2' E Dist 92 miles
Another warm day and another little girl died this morning, both it and the one that died last night were berried about 7 oclock in the morning both were droped of the plank at once. Pilote come on at 10 am ancor droped at half past 11, lying in the bay 1 day.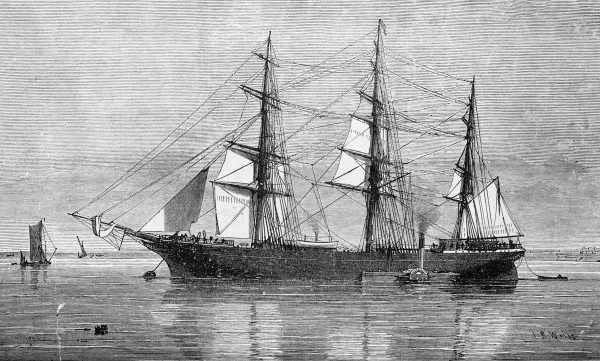 SS Eastern Monarch at anchor
TUESDAY 23RD OCTOBER 96TH DAY
Cleveland bay, last night we did not sleep much as we were up every now and again looking for the lighthouse on cleveland cape sail was shortened so that would enter the bay in daylight, one of the single women about 16 years of age died this morning with fever and about 10 am a pilate with 4 men rowing came out and met usin the bay the first question he asked was if we had any distress on board the doctors answer was fever and chicken pox and as soon as the pilate steped on the ladder he ordered the men to cleare of and report our case, and about half past 11 the anchor was droped, i saw it raised when we were leaving greenock and i was on the forecastle this morning and saw it drop into the water it draged for a good bit and then it brought us to a stop and the ship swung round. and in the middle of the day the young womans corpse were taken in a boat to the Magnetic Iland and burried there the 2nd mate was in command, in the afternoon a small steamer came out to us with a doctor and several other on board also plenty of fresh beef and vegetables and potatoes they also handed us a few newspapers in which we saw the assination of carrey the informer, in the evening a small yaught came out and flung a rope up to us but they were immeadietly ordered away the pilate shouted if they came back he would put them in quarrantine, any letter that the little steamer took away had to be fumigated and at night it was cheary to see all the light s of the town, we are about 6 miles out from the shore. We are fully a week earliere than we were expected, the pilot says we have made the quickest passage that has been made to townsville.
WEDNESDAY 24 TH OCTOBER 97TH DAY [2 DAYS]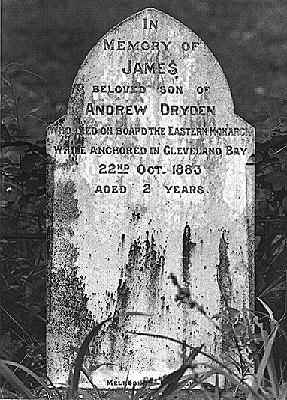 This morning a little boy died 2 years of age, and in the afternoon another little girl dies 3 and a half years of age, we had plenty of fresh meat sent to us today again but it is not decided if we are to be kept in quarrantine, the the little boy was taken to the iland and burriedbut it was to late when the girl died to take her away and about 10 pm her little sister died. She was about 19 months of age they were the only children their parents gad, and it was heart rending to see them.
"The little boy" was James Dryden, a victim of measles, whose gravestone still exists on Magnetic Island. (Note that the date on the gravestone should read 24th October, not 22nd October.)
Photo: James Walker
THURSDAY 25TH OCTOBER 98TH DAY [3 DAYS]
Another little girl dies this morning and was placed in a little box by its self and the other two sisters that died yesterday were placed in the one box, they were all taken this morning at 7 oclock to the Magnetic Iland burried there. Today the doctor got a testimonial in writing from us expressing our heartfelt thanks to him for his goodness and self sacrifice for us.
FRIDAY 26TH OCTOBER 99TH DAY [4 DAYS]
Another little boy named Charles died this morning about 2 am. and about 7 am he was taken to the Il and burried, the day has been very hot and in the evening we had a regular mutiny on board, some of the sailors had come off for tobaco and amongst them was the one which caused the disturbance at the beginning of our journey this is the 3rd time he has been in trouble since the voyage commenced, while they were waiting on the tobaco they had been talking up to the girls on the poop when two of the officers came down the stairs and ordered them to their work, this fellow i hear gave them back some insolence and upon this the chief mate drew his hand and struck him, the sailor imeadiatly knocked the first mate down and gave him a very sore face the fourth mate rushed into the cabin shouting to Captain there was a mutiny on board and as soon as he came out he attempted to put the sailor in irons i hear he knocked the Captain down also laterly he broke away with the rest of the sailors, the captain then rushed into his cabin and came out again with his revolver swearing he would shoot him if he would not go in irons, our good doctor tried to persuade him to try and put down the disturbance without the use of firearms and not alarm all the passangers and so many ill, the captain was like a wild man and told the doctor this fellow had been causing trouble all the voyage and now he had knocked down his first mate and himself and at this time two of the captains men came forward and pointed out the doctors asistant at my side who has the name of underhandwork they told the captain this man had been the the cause of all the disturbance that had been going about trying to put into everybobys head that the captain was no sailor that he had no certificatyes and that he did not bring us here and that he had to stop a testimonial some of the passangers were geting up for the captain and officers upon hearing this the captain raised his revolver so close to my face that i had to hold it back, he placed it to the mans head and shouted you vilain i've a good mind to shoot you, the captain is childish and goes on like a madman and he has done a lot to anoy the doctor, but through out all this the doctor has always advised him for his good, and between the doctor and the pilot he was advised to leave all in the pilots hands the pilot then cooly walked forward to the forecastle and the sailor came quietly aft along with him and after some delay he alowed the hand cufs to be put on them all the sailors were called aft and asked if they would go to their work some of them refused to work but the rest bent to their work and the police flag was to the main mast, but after a little i am told that the chief mate went to the sailor and apoligised for striking him he was then let go, and in the evening the captain was presented with a testimonial in writing for himself and officers expressing their thanks of the passangers for the good passage and libertys we were alowed, he then commenced to give us a great speech which was very often the one thing over again, he commenced about this sailor telling him to day that he had been drunk ever since we left glasgow, he has always been down upon the doctor since ever the sails shifted because the doctor caused every thing to be made secure before leaving it for the safety of the passangers, when the captain came down that afternoon prety much the worse of drink and ordered the hatch to be closed and the cargoe stil shifting, and also because the doctor told him the ships company would require to pay for all the bagage destroyed belonging to the emigrants as the cargoe was not properly stoed, i mention this here to let you know the reason the captain is so ill at the doctor, so in the middle of his speech he comenced about the doctor saying the doctor and him were of varience, the doctor hapined to be passing at the time and heard him, he stoped and told the captain that this was not true and that he had always trie to advise him for his good, the captain tried then to abuse the doctor with his toung, but the passangers hised and would not alow him and the doctor went away, itis impossible i could give you the details of all that was said but it was realy amusing latterly the captain closed his speech with thanks and went away, the townsville paper reported about the testimonial to the doctor for his kindness to us throughout the voyage and for his atention to duty when sufering with long and severe ilness himself, he has always been kind and ready to attend to us at any time either day or night.
SATURDAY 27TH OCTOBER (5TH DAY)
The Government have placed tents on magnetic iland for all the sick and those that had fever, chicken pox and measels to be kept in quarrentine until the trouble is all cleared away, the rest of us it has been decided are to be taken to the depot on rose iland and everything fumigated, there was a good deal more than a hundred people taken to the iland this morning and it could scarcely be said that one of them was bedfast they were all composed of parents and their familys the greater number of them having had no trouble at all, it seems that the whole of the town is in an uproar against alowing us to come into the town without going into quarrentine, just as the doctor was preparing to go to the iland along with the rest he was handed a letter from home teling him his mother was dead and it was heartrending to see him standing with his hand trembling in a sling weeping over his sad loss.
SUNDAY 28TH OCTOBER (6TH DAY)
The baby that was last born on the ship and was named for the captain died this morning on the iland, and the government doctor for townsville went to the iland and put our own doctor in cloriform and operated on his hand he is very weak and is scarcely expected to recover. The chests of those on the iland were sent over today.
SUNDAY 4TH NOVEMBER MAGNETIC ILAND
The arrival of our ship in this bay, and the report of the disease on board has caused the inhabitants of townsville such fear and alarm that they have had great meetings which has resulted in puting us all in quarrentine, and on Wednesday last we were all taken in the small boats and landed on the iland, i then went and got a tent and wood to erect it with, i then set to work and erected it near to the water, we are sent plenty of good food, and you can picture us out in our tents like a lot of tincklets and our food being cooked on a fire on the ground, there is one black man on the iland he has 4 wives and some children and it is a sight to see the whole of them sitting with an old black pipe in their mouth smoking, this is a wild looking place with great hills covered from head to foot with stones the half size of the Eastern Monarch and the trees growing out from between them, i have walked over a good bit of the iland and i have seen a good many coketoes and other beautiful birds but no monkeys, there is one White man and his family lives on the iland i hear he has bought it he has a large garden but it is wild like, compaired our gardens at home he has also a rough got up house and a great many goats and hens, you will see by the description i have tried to give you of all that has taken place that we have had to rough it a good bit, but we are just taking quietly hoping it will turn out all for the best it is very warm here, 3 of the crew escaped in the nighttime in one of the baots but they have been caught, about one oclock yesterday morning i was wakened up by the 3rd mate coming to the entrance of the tent asking for a board i had it was to make a cofin with it for a child that had died during the night, i got up and gave him the one i was lying on.
TOWNSVILLE
SUNDAY 11TH NOVEMBER
Last Monday the 5th the greatest number of us were taken from the magnetic iland to the depot on ross iland, ross iland is divided from townsville by a small creek, the depot is a deplorable place to live in the woman and children get a mattress to ly upon the flore but the men married and single have to ly in another place on the bare flore or out on the beach, it is very hot here all day but at night it is very cool a great many of the emigrants have gone inland away into the bush and some have gone further north, there is not much work to be got here in townville unless with carpenters they are very busy, the town has a prety fair appearance but as far as you can see from the town there is nothing but dry and burned hills with the sun.
TOWNSVILLE
SATURDAY 17TH NOVEMBER
i have been working in the foundry here all week at the greensand but today i got the chance a pass from townsville to brisbane and from brisbane to Maryborough i had only a short time to make up my mind but i embraced the opertunity and packed up and of we set and the rain coming down upon us in torrents.
BRISBANE
21ST NOVEMBER
we arrived here this afternoon
BRISBANE
22ND NOVEMBER
i tried all the foundries today but they were all slack we then took the boat for maryborough in the afternoon and arrived in Maryborough on the 23rd Nov. there is to foundrys here but they were slack also, and on Saturday 24th of Nov in the afternoon we took the train for Gympie where Maggies Uncle and Aunt lives i intended to wait in Maryborough and let her and the children go to her aunts themselves but she would not go unless i would go with her, and more so because i had my hand poisned and was suffering very much and it was just as well i did go because her uncle and aunt received us with great kindnes and doctored my hand and by the middle of the week it brook and then i began to get relief, i may state here that during the time we were lying in quarantine we wrote to Maggies aunt telling her where we were and she wrote back by return telling us that she had got a letter from home telling her that one of the daughters of her brother Tom was on her way out to Queensland along with her husband but they did not tell her the name of the ship nor the port we were bound for, so that she said she was just going to advertise for us when she got our letter, she told us that brisbane or Maryborough would be the best place for my work but she hoped we would come to the latter and pay them a visit as we were the first friends that had come to the colony since she had come and that was 21 years ago, we were treated with every kindness and while looking through some glasgow weekly mails that had just come i saw where my brother matthew had been enquiring about our ship i think he was answered on the 27th sept
On the 30th November i left Gympie myself for Maryborough and started in one of the foundrys on the 3 dec at the greensand.