Jacques Pelissot
b. about 1915, d. 3 November 1984
Person Exhibits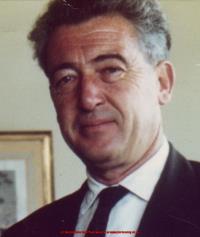 Jacques Pelissot, circa 1965
Birth
Jacques Pelissot was born about 1915 in France.
Parents
Family life
Jacques Pelissot and
Stella Jolliffe
were married on 9 November 1949 in Nairobi.
Death
Jacques Pelissot died on 3 November 1984 in Sydney.
Click on any citation number above to view details of the source document and, possibly, access an image of the source.
| | |
| --- | --- |
| Last Edited | 21 August 2018 |