William Ballantyne
b. 8 June 1789, d. 6 March 1842
Person Exhibits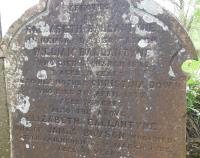 Gravestone Ballantyne x 3
Detailed biography
For a detailed biography of William Ballantyne
click here
.
Family surname
For more information about the Ballantyne surname
click here
.
Birth
William Ballantyne was born on 8 June 1789 at Howmains in Glassford.
1,2,3
He was baptized on 21 June 1789 in Glassford, Lanarkshire.
3
Parents
Family life
William Ballantyne and
Christina Dow
were married on 15 March 1818 in Glassford.
4
Residence information
William Ballantyne lived in Hamilton, Lanarkshire, Scotland, on 15 March 1818.
4
He lived at Muirhead in Hamilton, Lanarkshire, Scotland, on 6 June 1841, farmer.
5
Death
William Ballantyne died on 6 March 1842 at age 52 in Hamilton.
1,2,6,7
He was buried on 7 March 1842 at Glassford Cemetery in Glassford.
2
Citations
Click on any citation number above to view details of the source document and, possibly, access an image of the source.