Christina Ballantyne
b. August 1826, d. 8 March 1867
Person Exhibits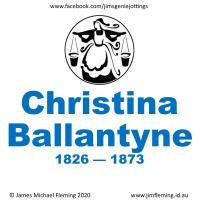 Christina Ballantyne logo
Detailed biography
For a detailed biography of Christina Ballantyne
click here
.
Family surname
For more information about the Ballantyne surname
click here
.
Birth
Parents
Family life
Thomas Ballantyne
and Christina Ballantyne were married on 20 July 1851 at Parish of Mearns in Muirhead of Hamilton. He was a baker of Busby; she was from Waterford.
2,1,5
Residence information
Christina Ballantyne lived at Waterford in the Parish of Mearns in Renfrew, Scotland
+
, on 20 July 1851.
2
Death
Christina Ballantyne died from strumous abscess of thigh on 8 March 1867 at age 40 at Fullarton in Old Monkland. She had suffered the disease (a skin or glandular infection associated with tuberculosis) for 6 months.
6,7,5
Citations