Thomas Ballantyne
b. 26 July 1826, d. 27 March 1873
Person Exhibits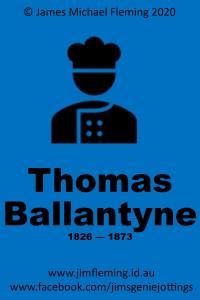 Thomas Ballantyne logo
Detailed biography
For a detailed biography of Thomas Ballantyne
click here
.
Family surname
For more information about the Ballantyne surname
click here
.
Birth
Thomas Ballantyne was born on 26 July 1826 at Lickperwick in East Kilbride.
1,2,3,4,5,6,7,8
He was baptized on 6 August 1826 in East Kilbride, Lanark, Scotland.
8
Parents
Family life
Thomas Ballantyne and
Christina Ballantyne
were married on 20 July 1851 at Parish of Mearns in Muirhead of Hamilton. He was a baker of Busby; she was from Waterford.
9,2,10
Residence information
Thomas Ballantyne lived at Busby in Mearns, Renfrew, Scotland, on 20 July 1851.
9
Working life
Death
Thomas Ballantyne died from apoplexy on 27 March 1873 at age 46 at Causeyside in Tollcross. While the death certificate says that the cause of death was "chronic alcoholism", this was officially changed to "apoplexy" through the Register of Corrected Entries.
11,6
Citations