Thomas Clarkson
Person Exhibits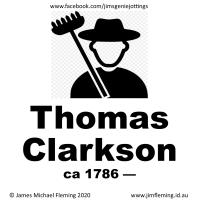 Logo Thomas Clarkson ca 1786
Family surname
For more information about the Clarkson surname
click here
.
Birth
Family life
Thomas Clarkson and
Ann Leeming
were married on 10 February 1806 in Broughton.
1
Residence information
Thomas Clarkson lived in Haighton, Lancashire, on 10 February 1806, husbandman.
1
Citations
[S1243] Marriage Certificate, Thomas Clarkson and Ann Leeming, 30 November 1850, General Register Office, England, London. Broughton Parish.
[S1244] "RR: Clarkson family of Lancashire", Gordon Faulkner and Barbara Green (www.faulkner-history.co.uk); Fleming Family History Archive, Sydney.
Click on any citation number above to view details of the source document and, possibly, access an image of the source.