Robert Clarkson
b. 28 December 1809, d. 9 October 1881
Person Exhibits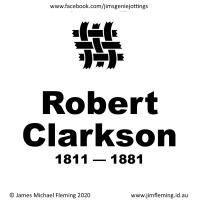 Logo for Robert Clarkson
Family surname
For more information about the Clarkson surname
click here
.
Birth
Robert Clarkson was born on 28 December 1809 in Fernyhalgh.
1,2,3,4
He was baptized on 29 December 1809 in Fernyhalgh, Lancashire.
4
Parents
Family life
Robert Clarkson and
Alice Singleton
were married on 18 July 1831 at St John's Church in Preston.
2,5,6,7
He and
Ann Poulton
were married in June 1851 in Preston. His daughter Elizabeth would later marry his new wife's brother, John.
8
Children with Ann Poulton (b. 7 September 1818, d. before 1881)
Residence information
Robert Clarkson lived in Fulwood, Lancashire, on 6 June 1841, cotton weaver.
2
Working life
On 10 July 1850 Robert Clarkson was a labourer in Fulwood Row.7
Death
Robert Clarkson died from chronic dysentry on 9 October 1881 at age 71 at a farmhouse near to Fulwood Barracks in Fulwood Row.
9,10
He was buried on 10 October 1881 in Preston.
9,9
Citations