Elizabeth Clarkson
Person Exhibits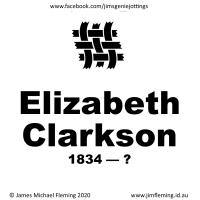 Logo Elizabeth Clarkson 1834
Family surname
For more information about the Clarkson surname
click here
.
Birth
Elizabeth Clarkson was born in 1834 in Lancashire.
1,2,3,4,5
Was born on on 23 March 1860 to and in Sydney, NSW, Australia. The BC reports that 2 previous children of the marriage had died
2,6,7,8
Parents
Family life
John Poulton
and Elizabeth Clarkson were married on 1 March 1854 in Lancashire.
2,3
Children with John Poulton (b. 26 March 1830, d. 5 September 1887)
Residence information
On 6 June 1841 they resided with parent (
Robert Clarkson
, cotton weaver) in Fulwood, Lancashire.
5
On 30 March 1851 they resided with parent (
Robert Clarkson
, weaver) in Fulwood, Lancashire. It is noteworthy that the Clarkson family lived next door to the Poulton family. Robert Clarkson was soon to marry Ann Poulton and Elizabeth Clarkson was to marry John Poulton.
4
Elizabeth Clarkson emigrated on 13 November 1859 from Liverpool, England. SS Fitzjames
1
She immigrated on 2 February 1860 to Sydney, New South Wales.
1,9
Death
Elizabeth Clarkson died after 1883.
10
Memorial
The whereabouts of any memorial to Elizabeth Clarkson are unknown.
Follow this link
for more details.
Citations
Click on any citation number above to view details of the source document and, possibly, access an image of the source.