John Poulton
b. 26 March 1830, d. 5 September 1887
Person Exhibits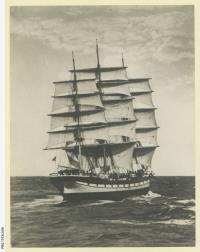 John Poulton came to Australia in 1860 aboard the Fitzjames
Detailed biography
For a detailed biography of John Poulton
click here
.
Family surname
For more information about the Poulton surname
click here
.
Birth
Parents
Family life
Residence information
On 6 June 1841 they resided with parent (
Elizabeth Green
, cotton weaver) in Fulwood, Lancashire.
8
John Poulton lived at Sidles Farm in Alston, Ribbleton, Lancashire, on 30 March 1851, farm labourer. He was working on a 30 acre farm owned by James Miller who had a wife. His wife's sister and daughter also lived there.
5
He emigrated on 13 November 1859 from Liverpool, England. SS Fitzjames
1
He immigrated on 2 February 1860 to Sydney, New South Wales.
1,9
Working life
Death
John Poulton died from acute inflammation of both lungs on 5 September 1887 at age 57 at Coonamble Hospital in Coonamble. The informant was S Howard, wardsman
2
He was buried on 6 September 1887 DETAIL in Coonamble. He was buried in the RC cemetery at Coonamble
2
He had his estate probated on 13 October 1887 in Coonamble.
14
Memorial
There is a memorial to John Poulton at Coonamble Cemetery in Coonamble, New South Wales, Australia.
Follow this link
for information and images of his memorial.
Citations
Click on any citation number above to view details of the source document and, possibly, access an image of the source.