John Poulton
b. 26 March 1830, d. 5 September 1887
Person Exhibits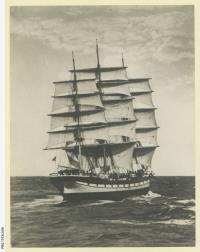 John Poulton came to Australia in 1860 aboard the Fitzjames
Detailed biography
For a detailed biography of John Poulton
click here
.
Family surname
For more information about the Poulton surname
click here
.
Birth
Parents
Family life
Residence information
John Poulton lived at Sidles Farm in Alston, Lancashire, on 30 March 1851, farm labourer. He was working on a 30 acre farm owned by James Miller who had a wife. His wife's sister and daughter also lived there.
5
He emigrated on 13 November 1859 from Liverpool, England. SS Fitzjames
1
He immigrated on 2 February 1860 to Sydney, New South Wales.
1,8
Working life
On 20 February 1860 John Poulton was a miner.1
He was employed as a railway construction labourer in 1863 in Lapstone NSW. He worked on the construction of the zig zag railway9
Death
John Poulton died from acute inflammation of both lungs on 5 September 1887 at age 57 at Coonamble Hospital in Coonamble. The informant was S Howard, wardsman
2
He was buried on 6 September 1887 DETAIL in Coonamble. He was buried in the RC cemetery at Coonamble
2
He had his estate probated on 13 October 1887 in Coonamble.
10
Citations