John Robert Poulton
b. 6 April 1785, d. circa 1834
Person Exhibits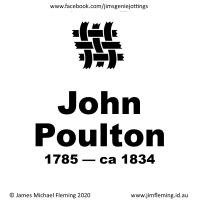 Johnh Poulton 1785 logo
Detailed biography
For a detailed biography of John Robert Poulton
click here
.
Family surname
For more information about the Poulton surname
click here
.
Birth
John Robert Poulton was born on 6 April 1785 in Fernyhalgh.
1
He was baptized on 7 April 1785 in Fernyhalgh, Lancashire.
1
Parents
Family life
John Robert Poulton and
Elizabeth Green
were married on 26 October 1807 in Broughton. The banns had been read on October 11th, 18th and 25th.
2
Working life
On 26 October 1807 John Robert Poulton was a weaver in Haighton.2
Death
John Robert Poulton died circa 1834.
3
Citations
[S1231] International Genealogical Index, Index to English Baptisms, (Ancestry.com, 2014), 7 Apr 1785 St Mary's Catholic Church, Fernyhalgh, Lancashire.
[S1232] Marriage Certificate, John Poulton and Elizabeth Green, 26 Oct 1807, General Register Office, England, London. Broughton Parish.
[S1191] Elizabeth Poulton, 6 Jun 1841 Census UK, London, Fulwood, Public Record Office, p11.
Click on any citation number above to view details of the source document and, possibly, access an image of the source.