John Robert Poulton
b. 6 April 1785, d. circa 1834
Person Exhibits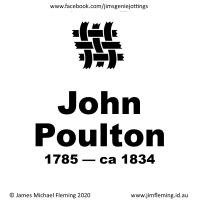 Johnh Poulton 1785 logo
Detailed biography
For a detailed biography of John Robert Poulton
click here
.
Family surname
For more information about the Poulton surname
click here
.
Birth
John Robert Poulton was born on 6 April 1785 in Fernyhalgh.
1
He was baptized on 7 April 1785 in Fernyhalgh, Lancashire.
1
Parents
Family life
John Robert Poulton and
Elizabeth Green
were married on 26 October 1807 in Broughton. The banns had been read on October 11th, 18th and 25th.
2
Working life
On 26 October 1807 John Robert Poulton was a weaver in Haighton.2
Death
John Robert Poulton died circa 1834.
3
Citations
[S1231] International Genealogical Index, Index to English Baptisms, (Ancestry.com, 2014.)
[S1232] Marriage Certificate, John Poulton and Elizabeth Green, 26 Oct 1807, General Register Office, England, London. Broughton Parish.
[S1191] Elizabeth Poulton, 6 Jun 1841 Census UK, London, Fulwood, Public Record Office, p11.