Elizabeth Green
b. 1787, d. 30 January 1855
Person Exhibits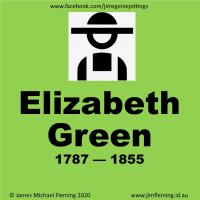 Elizabeth Green 1787 - 1855
Detailed biography
For a detailed biography of Elizabeth Green
click here
.
Birth
Family life
John Robert Poulton
and Elizabeth Green were married on 26 October 1807 in Broughton. The banns had been read on October 11th, 18th and 25th.
4
Residence information
Elizabeth Green lived in Haighton, Lancashire, on 26 October 1807.
4
She lived in Fulwood, Lancashire, on 6 June 1841, cotton weaver.
1
She lived at 25 Fulwood Row in Fulwood, Lancashire, on 30 March 1851, farmer of 3 acres. The Poulton family lived next door to the family of Robert Clarkson, including his daughter Elizabeth Clarkson.
2
Death
Elizabeth Green died from bronchitis on 30 January 1855 at age ~68 in Broughton.
3,5
She was buried on 2 February 1855 in Broughton.
3
Citations
Click on any citation number above to view details of the source document and, possibly, access an image of the source.