Alice Singleton
b. circa 1814, d. 9 July 1850
Person Exhibits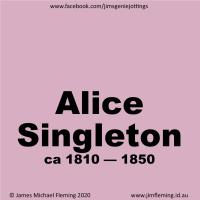 Alice Singleton logo
Birth
Alice Singleton was born circa 1814 at Little Marton in Poulton-Le-Fylde.
1
Family life
Robert Clarkson
and Alice Singleton were married on 18 July 1831 at St John's Church in Preston.
2,3,4,1
Residence information
, as 's spouse, resided with, in Fulwood, Lancashire, on 6 June 1841. cotton weaver.
2
Death
Alice Singleton died from heart disease on 9 July 1850 in Fulwood Row.
5,6,1
She was buried on 10 July 1850.
6,1
Citations
Click on any citation number above to view details of the source document and, possibly, access an image of the source.