John Grime
b. 10 September 1727, d. 4 July 1777
Person Exhibits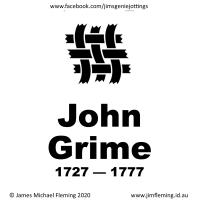 Logo John Grime 1727
Birth
John Grime was born on 10 September 1727 at Haslingden Grane in Haslingden.
1,2
He was baptized on 17 September 1727 at St James Church in Haslingden, Lancashire.
1,2
Parents
Family life
John Grime and
Alice Haworth
were married on 25 December 1752 at St James Church in Haslingden.
3
Children with Alice Haworth (b. November 1732, d. 15 February 1816)
Residence information
John Grime lived in Bury, Lancashire, on 25 December 1752.
3
Working life
Death
John Grime died on 4 July 1777 at age 49 in Edgworth.
5,4
He was buried on 5 July 1777 at St Ann's Church in Turton.
5
Citations
Click on any citation number above to view details of the source document and, possibly, access an image of the source.