Trooper Alfred Ernest Whye
b. 1882, d. 28 April 1969
Person Exhibits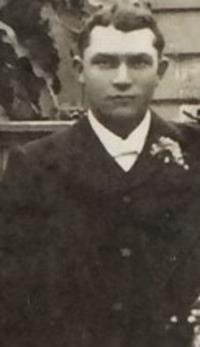 Alfred Ernest Whye pictured on his wedding day in 1904
Birth
Trooper Alfred Ernest Whye was born in 1882 in Brewarrina.
1,2
He was baptized on 5 July 1886 in Bourke, New South Wales, Australian Colonies. Siblings Frederick William Whye (aged 7), Alfred Whye (4) and Albert Joseph Whye (2) were all baptised in a single ceremony on 5 July 1886.
2
Parents
Family life
Residence information
Working life
Trooper Alfred Ernest Whye joined the 3rd NSW Mounted Rifles as a Trooper on 27 February 1901.1
He was discharged from the military on 12 June 1902 in Sydney, New South Wales.1
Death
Trooper Alfred Ernest Whye died on 28 April 1969 at age ~87 in Otahuhu.
1
He was buried on 29 April 1969 at Otahuhu Cemetery in Otahuhu.
1
Citations
[S1682] National Centre of Biography, editor, Australian Dictionary of Biography (Canberra: Australian National University, online 2021), Kathryn Whye, 'Whye, Alfred Ernest (1882–1969)', https://adb.anu.edu.au/biography/whye-alfred-ernest-30058
[S1721] JM Fleming, "Early baptisms at St Stephen's Anglican church Bourke: 1870-1900", Frederick William, Alfred and Albert Joseph Whye, 5 Jul 1886, page 21; research summary, 3 Sep 2022; PDF held by James Michael Fleming. Extracted from Reel 335, Society of Australian Genalogists
Click on any citation number above to view details of the source document and, possibly, access an image of the source.
| | |
| --- | --- |
| Last Edited | 5 October 2022 |