John House
b. January 1807, d. 12 December 1888
Person Exhibits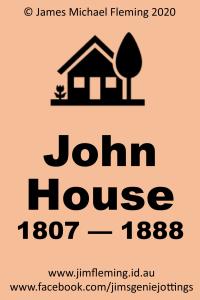 John House logo
Birth
Parents
Family life
John House and
Mary Hooper
were married about 1829 in Drayton.
3,2
Children with Mary Hooper (b. about 1808, d. 2 April 1875)
Residence information
John House immigrated on 4 September 1856 to Sydney, NSW, Australia. SS "Lloyds"||John & Mary House paid £7/10/- for themselves and their 7 children while John's brother, William, brought his wife (Amelia), 4 step-children and 4 of his own children for £2/10/-. John's entry notes that his brother, Charles, is employed as a gardner by Mrs Thompson, 158 George Street, Sydney.
1,4
Working life
Death
John House witnessed the death of
Mary Hooper
on 2 April 1875 at Harbour Street off Hay Street in Sydney, NSW, Australia. chronic diarrhoea||She was survived by 3 sons and 4 daughters and was predeceased by 3 sons
3
He died on 12 December 1888 at age 81 at 161 Crown Road in Sydney. senile bronchitis and valvular disease of heart
2
There was a funeral for on 16 December 1888 in Leichhardt, NSW, Australia. He was buried in Balmain Cemetery (now Pioneers Memorial Park in Leichhardt)
2
Memorial
There is a memorial to John House at Pioneers Memorial Park in Leichhardt, NSW, Australia.
Follow this link
for information and images of his memorial.
Citations
Click on any citation number above to view details of the source document and, possibly, access an image of the source.