Grace House
b. 12 August 1845, d. 6 October 1900
Person Exhibits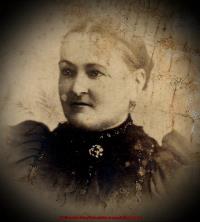 Probably Grace Flowerdew (nee House), circa 1890
Birth
Grace House was born on 12 August 1845 in Drayton. The birth was registered on 7 September 1845 in the Sub-district of Curry Rivell in the District of Langport
1,2,3,4,5,6
Parents
Father
John House

(b. January 1807, d. 12 December 1888)

Mother
Mary Hooper

(b. about 1808, d. 2 April 1875)
Family life
John James Flowerdew
and Grace House were married on 22 December 1870 at St Andrews Cathedral in Sydney. He was a bachelor Mariner of Sydney and she a spinster of Liverpool Street, Sydney. His father, Benjamin, was a ship's carpenter. Her father was a Labourer.
2,3,4,6,7
Residence information
Grace House immigrated on 4 September 1856 to Sydney, NSW, Australia. SS "Lloyds"||John & Mary House paid £7/10/- for themselves and their 7 children while John's brother, William, brought his wife (Amelia), 4 step-children and 4 of his own children for £2/10/-. John's entry notes that his brother, Charles, is employed as a gardner by Mrs Thompson, 158 George Street, Sydney.
1,6
She lived at Liverpool Street in Sydney, NSW, Australia, on 22 December 1870.
2
Death
Grace House died from liver cancer on 6 October 1900 at age 55 in Balmain North. She had been ill for four months. She died at 6 Sutton Street, Balmain North
4,6
She was buried on 8 October 1900 in Balmain North. Her burial service was conducted according to the rites of the Salvation Army
6
Memorial
There is a memorial to Grace House at Pioneers Memorial Park in Leichhardt, NSW, Australia.
Follow this link
for information and images of her memorial.
Citations
Click on any citation number above to view details of the source document and, possibly, access an image of the source.