John James Flowerdew
b. 20 September 1846, d. 6 August 1910
Person Exhibits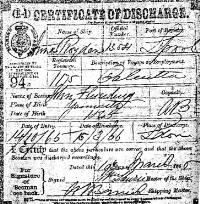 John James Flowerdew - 1866 discharge at London from SS Ann Royden
Detailed biography
For a detailed biography of John James Flowerdew
click here
.
Family surname
For more information about the Flowerdew surname
click here
.
Birth
John James Flowerdew was born on 20 September 1846 at Garden Lane in Great Yarmouth. The birth was registered on 7 October 1846 in the Sub-district of Great Yarmouth in the District of Great Yarmouth in the County of Norfolk
1,2,3,4
Parents
Family life
John James Flowerdew and
Grace House
were married on 22 December 1870 at St Andrews Cathedral in Sydney. He was a bachelor Mariner of Sydney and she a spinster of Liverpool Street, Sydney. His father, Benjamin, was a ship's carpenter. Her father was a Labourer.
1,2,5,6,4
Children with Grace House (b. 12 August 1845, d. 6 October 1900)
Residence information
John James Flowerdew lived in Sydney, NSW, Australia, on 22 December 1870.
1
Working life
On 16 May 1900 John James Flowerdew was a labourer "engineer."7
Death
John James Flowerdew died from liver cancer on 6 August 1910 at age 63 at Dellwood, College Street, in Drummoyne. He had been ill for 8 months
4
He was buried on 8 August 1910 at Balmain CofE Cemetery in Leichhardt.
4
Citations