Benjamin Flowerdew
Person Exhibits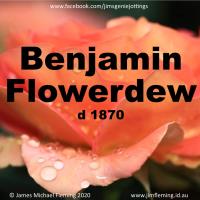 Benjamin Flowerdew logo
Family surname
For more information about the Flowerdew surname
click here
.
Birth
Benjamin Flowerdew was baptized on 19 March 1815 in Stokesby with Herringby, Norfolk, England.
1,2,3,4,5
He was baptized on 11 May 1823 at Wesleyan in Great Yarmouth, Norfolk, England.
4
Parents
Family life
Benjamin Flowerdew and
Elizabeth Tubby
were married on 19 April 1837 at St. Nicholas in Great Yarmouth.
6,7,8,4,9,10
Residence information
Benjamin Flowerdew lived at the Golden Lion Inn in Great Yarmouth, Norfolk, England, on 30 March 1851, sawyer. He was a widower aged 35 lodging with James Baker, Publican.
11,12,4
Working life
On 22 December 1870 Benjamin Flowerdew was a ship's carpenter.9
Death
Benjamin Flowerdew died after 1870.
Citations
Click on any citation number above to view details of the source document and, possibly, access an image of the source.