Elizabeth Tubby
b. about 1813, d. August 1848
Person Exhibits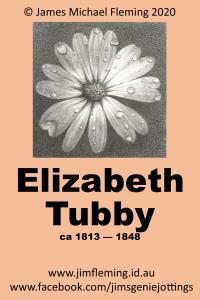 Elizabeth Tubby logo
Birth
Elizabeth Tubby was born about 1813. based on her estimated age at the time of her death
1
She was born circa 1820.
2
Family life
Death
Elizabeth Tubby died in August 1848.
8,9,1
At, Elizabeth Tubby died and her remains were buried on 28 August 1848 in Great Yarmouth, Norfolk, England. age 36
10,1,11
Citations
Click on any citation number above to view details of the source document and, possibly, access an image of the source.