Ellen Ruby Bowen
b. 16 September 1882, d. 14 April 1912
Person Exhibits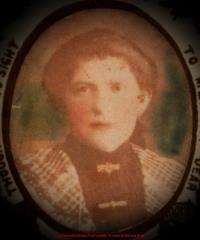 Ellen Ruby Murphy (nee Bowen), circa 1912
Detailed biography
For a detailed biography of Ellen Ruby Bowen
click here
.
Family surname
For more information about the Bowen surname
click here
.
Birth
Ellen Ruby Bowen was born on 16 September 1882 in Timbrebongie. Her father was a 29 year old hawker from Bathurst and her mother was 22 years old from Sydney. They lived at Timbrebongie near Dubbo. She had a living brother and sister and a deceased brother
1,2,3,4
Parents
Family life
Working life
On 14 April 1912 Ellen Ruby Bowen was occupied with housework while living at in Bourke, New South Wales, Australia.2
Death
Ellen Ruby Bowen died on 14 April 1912 at age 29 at Bourke District Hospital in Bourke. ||She had been suffering from "enteric fever" for 10 days and a perforated intestine for 2 days.
2
She was buried on 15 April 1912 at Roman Catholic Cemetery in Bourke.
2
Memorial
There is a memorial to Ellen Ruby Bowen at Bourke Historical Cemetery in Bourke, New South Wales, Australia.
Follow this link
for information and images of her memorial.
Citations
Click on any citation number above to view details of the source document and, possibly, access an image of the source.