Joseph Grime
Person Exhibits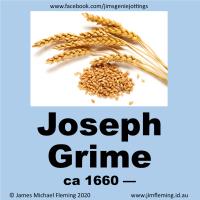 Logo Joseph Grime 1660
Birth
Joseph Grime was born in 1660.
Family life
Joseph Grime and
Elizabeth Duckworth
were married on 26 June 1691 at St James Church in Haslingden.
1
Residence information
Joseph Grime lived at Oakenhead Wood in Haslingden, Lancashire, on 16 March 1683.
2
Citations
[S1376] Marriage Certificate, Joseph Gryme and Elizabeth Duckworth, 26 Jun 1691, General Register Office, England, London. St James Church, Haslingden, Lancashire.
[S1375] Baptismal Record: Duckworth, Joh 1683, Vol 1683, (16 Mar 1683), General Register Office, England, Trafalgar Road, Birkdale, Southport, PR8 2HH
Click on any citation number above to view details of the source document and, possibly, access an image of the source.