Ellin Greenhalgh
b. circa 1640, d. 1 August 1678
Person Exhibits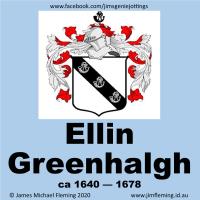 Logo Ellin Greenhalgh 1640
Birth
Ellin Greenhalgh was born circa 1640.
Family life
Death
Ellin Greenhalgh died on 1 August 1678 in Edgworth.
2
She was buried on 2 August 1678 at St Peter's Church in Bolton.
2,3
Citations
[S1447] Marriage Certificate, William Entwistle and Ellin Greenehaulgh, 30 May 1665, Manchester Libraries Information and Archives, Manchester, England. Parish Register of St Peter's Church Bolton le Moors.
[S1448] Manchester Libraries Information and Archives, Ellin Entwistle, 1678, (Ancestry.com, 2013), Burial Register for St Peter's Church, Bolton le Moors, Lancashire.
[S1452] "Twists and Doubts", 2020, James Michael Fleming (Cammeray, NSW); Fleming Family History Archive, Sydney.
Click on any citation number above to view details of the source document and, possibly, access an image of the source.