George Waples
b. 1807, d. 27 February 1884
Person Exhibits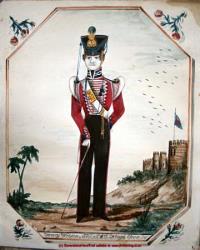 George Waples Private in the 4th Kings Own, circa 1830. This is actually a portrait of one of the other men in his Regiment - Henry Watson - painted by Charles Dean.
Detailed biography
For a detailed biography of George Waples
click here
.
Family surname
For more information about the Waples surname
click here
.
Birth
Parents
Family life
George Waples and
Amelia Carlisle
were married on 28 September 1835 at St John's Church in Sydney. C of E||George was described as a Private, 4th Regiment. Presumably that is why the consent of Lt Colonel Breton is recorded. Amelia is described as Free, aged 21 years. Both signed with a mark (although the witnesses signed their names).
3,4,1
Residence information
George Waples immigrated on 13 November 1831 to Hobart, NSW, Australia. convict ship "Strathfieldsay"||George probably did not intend to immigrate when he arrived in Australia as a convict guard. In fact, he never left Australia after arriving here.
3
Working life
George Waples was employed by as in Bulli, NSW, Australia, in 1837.3
Death
George Waples signed a will on 20 July 1880 in Mount Kembla, NSW, Australia. ||Everything (chiefly his 50 acre farm) was left to his sons David and Joseph.
5
He died on 27 February 1884 at age ~77 in Mount Kembla. paralysis||He was aged 77 years
1,5
He had his estate probated on 9 April 1884 in Australia.
5
Citations