George Waples
b. 1807, d. 27 February 1884
Person Exhibits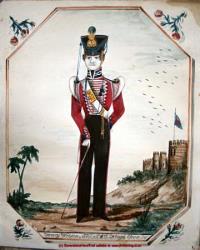 George Waples Private in the 4th Kings Own, circa 1830. This is actually a portrait of one of the other men in his Regiment - Henry Watson - painted by Charles Dean.
Detailed biography
For a detailed biography of George Waples
click here
.
Family surname
For more information about the Waples surname
click here
.
Birth
George Waples was born in 1807 in Northamptonshire.
1,2
He witnessed the baptism of
Susannah Waples
on 19 August 1855. C of E||
3,4
Parents
Family life
George Waples and
Amelia Carlisle
were married on 28 September 1835 at St John's Church in Sydney. C of E||George was described as a Private, 4th Regiment. Presumably that is why the consent of Lt Colonel Breton is recorded. Amelia is described as Free, aged 21 years. Both signed with a mark (although the witnesses signed their names).
5,6,1
Residence information
George Waples immigrated on 13 November 1831 to Hobart, NSW, Australia. convict ship "Strathfieldsay"||George probably did not intend to immigrate when he arrived in Australia as a convict guard. In fact, he never left Australia after arriving here.
5
Working life
George Waples was employed as a on 1 June 1827 in London, England.
He was employed by as in September 1835.6
He was mlt discharge in 1837 in Sydney, NSW, Australia. Kings Owns 4th Regiment||purchased his freedom for £15||According to an article in the Illawarra Mercury on 28 December 1982, "When the regiment sailed for Madras, India, in 1837, George bought his freedom for £15."5
He was employed by as in Bulli, NSW, Australia, in 1837.5
He purchased his discharge from the 4th Regiment of Foot for 15 pounds in Sydney, NSW, Australia, on 31 July 1837.
Death
George Waples witnessed the death of
Amelia Carlisle
on 2 June 1876. from paralysis||She was survived by her husband, George, 5 sons and 4 daughters and was predeceased by 5 sons
7,8,9
He signed a will on 20 July 1880 in Mount Kembla, NSW, Australia. ||Everything (chiefly his 50 acre farm) was left to his sons David and Joseph.
10
He died on 27 February 1884 at age ~77 in Mount Kembla. paralysis||He was aged 77 years
1,10
He had his estate probated on 9 April 1884 in Australia.
10
Memorial
There is a memorial to George Waples at St Lukes Anglican Church Cemetery in Brownsville, NSW, Australia.
Follow this link
for information and images of his memorial.
Citations
Click on any citation number above to view details of the source document and, possibly, access an image of the source.