Susannah Waples
b. 4 May 1855, d. 30 July 1927
Person Exhibits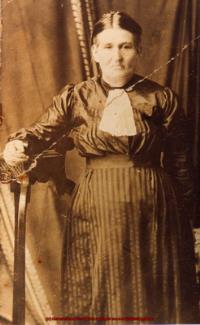 Susan Jolliffe (nee Waples) circa 1909
Detailed biography
For a detailed biography of Susannah Waples
click here
.
Family surname
For more information about the Waples surname
click here
.
Birth
Susannah Waples was born on 4 May 1855 in Berkeley.
1,2
She was baptized on 19 August 1855. C of E
1,2
Parents
Family life
James Jolliffe
and Susannah Waples were married on 30 December 1878 at St Michael's Church in Wollongong. C of E
3,2
Death
Susannah Waples died on 30 July 1927 at age 72 in Goolagong.
Memorial
There is a memorial to Susannah Waples at Gooloogong Cemetery in Goolagong, NSW, Australia.
Follow this link
for information and images of her memorial.
Citations
[S284] Baptismal Record: Waples, Susannah, Vol 42, (19 August 1855), NSW Registry of Births Deaths and Marriages
[S418] Unknown, editor, Illawarra Pioneers Pre-1900 (PO Box 310 Wollongong NSW 2520: Illawarra Family History Group Inc, 1988)
[S354] Marriage Certificate, James Jolliffe and Susan Waples, 30 December 1878, Registry of Births Deaths and Marriages, NSW. 1878/5244 (922.)
Click on any citation number above to view details of the source document and, possibly, access an image of the source.