James Jolliffe
b. 1 January 1883, d. 4 January 1969
Person Exhibits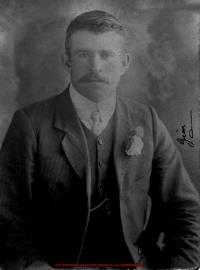 James Jolliffe, circa 1909
Detailed biography
For a detailed biography of James Jolliffe
click here
.
Family surname
For more information about the Jolliffe surname
click here
.
Birth
Parents
Family life
James Jolliffe and
Amy Laura Emily Gardner
were married on 26 September 1909 at St Paul's Church in Quambone. C of E||"The consent of Attwood Charles Gardner, being the father of the bride, was given in writing to the Marriage." He was a Bachelor Labourer of Cowra; she a Spinster Domestic Servant of Quambone. The groom's father was a Farmer and the bride's father a Labourer
1,3
Residence information
James Jolliffe lived with
Amy Laura Emily Gardner
in October 1909 in Cowra, NSW, Australia. Amy's obituary records that they went to live at "Norwick", Cowra after they were married.
3
Working life
On 31 January 1929 James Jolliffe was a contractor.4
Death
James Jolliffe died on 4 January 1969 at age 86 in Windang.
2
He was buried on 6 January 1969 in Canowindra.
5
Memorial
There is a memorial to James Jolliffe at Canowindra Cemetery in Canowindra.
Follow this link
for information and images of his memorial.
Citations
Click on any citation number above to view details of the source document and, possibly, access an image of the source.