James Jolliffe
b. about 1849, d. 22 June 1936
Person Exhibits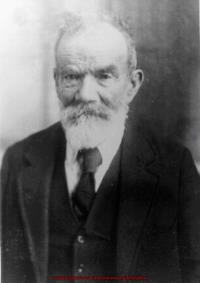 James Jolliffe, circa 1935
Detailed biography
For a detailed biography of James Jolliffe A HREF="Biog James Jolliffe 1849.htm"click here/A.
Family surname
For more information about the Jolliffe surname
click here
.
Birth
James Jolliffe was baptized on 14 February 1849 in Marston Magna, Somerset, England.
1,2
He was born about 1849 in Marston Magna.
3,4,5,6
Parents
Family life
James Jolliffe and
Margaret Edgar
were married in 1872.
3,7
He and
Susannah Waples
were married on 30 December 1878 at St Michael's Church in Wollongong. C of E||He was a widower farmer of Orange; she a spinster farmer's daughter of Mt Kembla.
8,6
Working life
James Jolliffe was a farmer.6
On 22 March 1898 James Jolliffe was a farmer at Goolagong NSW contracted to supply forage to the Police Force.9
Death
James Jolliffe died on 22 June 1936 at Soldiers Memorial Hospital in Canowindra. toxaemia, lobar pneumonia, infct
3,6
Citations