Sarah Jolliffe
b. 11 March 1851, d. 8 September 1916
Person Exhibits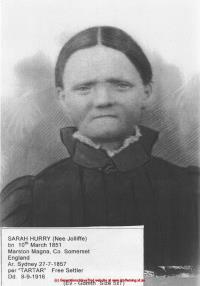 Sarah Hurry nee Jolliffe (1851 - 1916), circa 1891.
Family surname
For more information about the Jolliffe surname
click here
.
Birth
Parents
Family life
Residence information
Sarah Jolliffe lived with
Thomas Jolliffe, 2
, and
Elizabeth Curry Shepherd
about 1851 in Marston Magna, Somerset, England. residence number 17
2
On on 27 July 1857,
James
,
Elizabeth
,
John
,
Ellen
,
Arthur
,
Thomas
,
Robert
, and
Selina
arrived at aboard. they was at age 47 years old. SS "Tartar"||The Passenger List records that all could read and write except the two youngets children, Sarah and Robert. All were C of E. Thomas was a Farm Labourer; Elizabeth a Farm Servant; John was a Farm Labourer; Selina a General House Servant; Ellen was a Nursemaid
1,3,4
Death
They was a benficiary of 's will on 16 November 1867.
5
Sarah Jolliffe died on 8 September 1916 at age 65 in Berkeley.
3
She was buried about 9 September 1916 at C of E Cemetrey in Berkeley.
3
Citations
Click on any citation number above to view details of the source document and, possibly, access an image of the source.