George Gardner
b. 4 September 1813, d. 25 September 1890
Person Exhibits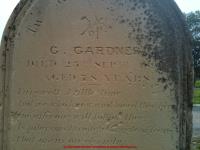 Close-up of the inscrition of the gravestone of George Gardner 1813-1890
Family surname
For more information about the Gardner surname
click here
.
Birth
George Gardner was born on 4 September 1813 in Croydon.
1,2,3,4
He was baptized on 3 November 1813 at St John's church in Croydon, Surrey.
4
Parents
Family life
George Gardner and
Mary Grime
were married on 14 February 1846 in Capertee. The minister, Colin Stewart, came from the Vale of Clwyd. Both bride and groom were residents of Capertee, as were the two witnesses. George was a member of the Presbyterian Church of Scotland.
5,1,2,6
Children with Mary Grime (b. 4 June 1829, d. 14 November 1911)
Residence information
George Gardner emigrated on 30 October 1835 from England. He traveled aboard the convict ship
Recovery
7
He immigrated on 25 February 1836 to in Sydney, NSW, Australia. He travelled aboard the convict ship "Recovery"
7,8,3
He lived at Cumberagaland Station in Coonabarabran, New South Wales, Australian Colonies, on 18 June 1859.
9
Involvement in crime
George Gardner was charged with larceny but acquitted in June 1833 in Surrey, England.
10
He was sentenced by Mr Innes to receive 50 lashes on 14 April 1838 in Bathurst.
8
Working life
About 1862 George Gardner was a labourer.11
In December 1862 George Gardner was a stockman at Tourable in Coonabarabran. Attwood Charles Gardner's birth was recorded at Coonabarabran, so Touralk and Terrealon must have been nearby.1
Death
George Gardner died from effusion of blood upon the brain on 25 September 1890 at age 77 in Coonamble.
12,2
He was buried on 26 September 1890 at Old Coonamble Cemetery in Coonamble.
2
Citations