Mary Grime
b. 4 June 1829, d. 14 November 1911
Person Exhibits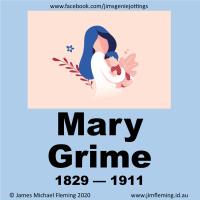 Logo Mary Grimes 1829
Birth
Mary Grime was born on 4 June 1829 in Parramatta.
1,2,3,4
She was baptized on 12 July 1829 at St John's Church in Parramatta, New South Wales, Australia.
4
Parents
Family life
George Gardner
and Mary Grime were married on 14 February 1846 in Capertee. The minister, Colin Stewart, came from the Vale of Clwyd. Both bride and groom were residents of Capertee, as were the two witnesses. George was a member of the Presbyterian Church of Scotland.
5,3,6,1
Children with George Gardner (b. 4 September 1813, d. 25 September 1890)
Working life
On 13 November 1911 Mary Grime was an Old Aged Pensioner at Clissold Parade in Campsie.1
Death
Mary Grime died from broncho-pneumonia on 14 November 1911 at age 82 at Clissold Parade in Campsie.
7,1
She was buried on 15 November 1911 at CofE Cemetery in Canterbury.
1
Citations