Attwood Charles Gardner
b. 24 December 1862, d. 1 May 1937
Person Exhibits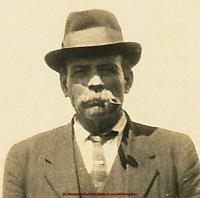 Attwood Charles Gardner, circa 1928
Detailed biography
For a detailed biography of Attwood Charles Gardner
click here
.
Family surname
For more information about the Gardner surname
click here
.
Birth
Attwood Charles Gardner was born on 24 December 1862 at Tareelwung Station, Castlereagh River, in Coonabarabran. His birth certificate spells it as "Terrealon", Castlereagh River but gives the father's address as "Tourable". Daughter Georgina's BC records Attwoods' birthplace as "Treelwongar, Terembone, NSW". In pencil on the BC is written "near Gilgoona". The birth took place without the assistance of a doctor or a midwife. Attwood Charles' father, George Gardner, was a 49 year old Stockman. Previous issue from the marriage comprised 5 males and 2 females living and 1 female deceased
1,2,3,4,5
Parents
Family life
Residence information
Attwood Charles Gardner lived at Railway Lane in Coonamble, NSW, Australia, on 1 May 1937.
4
Working life
On 14 March 1897 Attwood Charles Gardner was a boundary rider at Treelwongar, Terembone near Gilgooma, in Coonamble.3
Death
Attwood Charles Gardner died from diabetes mellitus and arterio sclerosis on 1 May 1937 at age 74 at Railway Lane in Coonamble. ||Doctor McCormack certified that he died from "diabetes mellitus" and "arterio-sclerosis". He had suffered from the former for 2 years.
4
He was buried on 2 May 1937 at CofE Cemetery in Coonamble.
4,8
Citations