Frances ("Granny Gardner") Kemp
b. 7 July 1859, d. 10 May 1943
Person Exhibits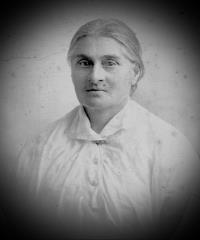 Frances Gardner (nee Kemp), circa 1930
Detailed biography
For a detailed biography of Frances ("Granny Gardner") Kemp
click here
.
Family surname
For more information about the Kemp surname
click here
.
Birth
Frances ("Granny Gardner") Kemp was born on 7 July 1859 at Warrangee station in Rylstone. The child's grandmother, Frances Elliott (nee Gibson) was present at the birth (possibly acting as midwife). The birth certificate spells the birthplace as "Wrangear near Mudgee", but the only place like this is Warrangee station. The owner of that station bought Mungrabambone near Quambone around this time. Her daughter, Amy Laura Emily Gardner's Birth Certificate states that Frances Kemp was born at "Drill Station"
1,2,3,4,5,6
Parents
Family life
Attwood Charles Gardner
and Frances ("Granny Gardner") Kemp were married on 8 November 1884 at St Barnabas' C of E Church in Coonamble.
1,7,3,4,8
Son
Edgar Kemp

(b. 26 November 1877, d. 12 December 1953)
Residence information
Frances ("Granny Gardner") Kemp lived in Coonamble, New South Wales, Australia, on 8 November 1884.
7
Working life
Death
Frances ("Granny Gardner") Kemp died on 10 May 1943 at age 83 at District Hospital in Coonamble. Arterio sclerosis||
1,12
She was buried on 11 May 1943 at C of E in Coonamble.
1,12
Citations
Click on any citation number above to view details of the source document and, possibly, access an image of the source.