Mary Ann Hanrahan
b. August 1828, d. 16 August 1907
Person Exhibits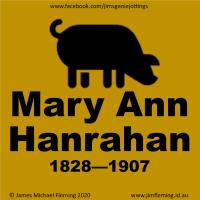 Mary Ann Hanrahan logo
Detailed biography
For a detailed biography of Mary Ann Hanrahan
click here
.
Birth
Parents
Family life
John Kessey
and Mary Ann Hanrahan were married on 27 August 1857 at Church of Saints Michael and John in Bathurst. Roman Catholic||
2,1,6,3,7,5,8,9
Residence information
Mary Ann Hanrahan lived at Hillsbro Station in Black Springs, NSW, in 1881.
10
John Kessey
and she lived at Hilsbury in Essington, NSW, on 5 April 1891. The residence housed 4 males and three females.
11
Working life
On 16 August 1907 Mary Ann Hanrahan was a domestic duties in Black Springs.3
Death
Died at age at age ~79 on 16 August 1907 in Black Springs, NSW. heart disease mitral regurgitation
3,4
Mary Ann Hanrahan was buried on 18 August 1907 at Roman Catholic Cemetery in Black Springs.
3
Citations