Catherine Hogan
b. 1807, d. 19 September 1865
Person Exhibits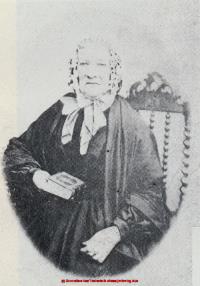 Catherine Hanrahan nee Hogan, circa 1855
Birth
Parents
Family life
Residence information
Patrick Hanrahan, the Elder
, and Catherine Hogan lived and worked as a landholder at Woodford in Melville, NSW, in November 1828. Catherine Hogan had left her three-month-old daughter (Mary Ann) at Melville and had travelled to Sutton Forest.
7
Patrick Hanrahan, the Elder
, and she lived in Brisbane Valley Creek, NSW, Australia, on 15 January 1851.
6
Working life
In September 1823 Catherine Hogan was a housekeeper to Patrick Hanrahan in Melville.2
In 1825 Catherine Hogan was a housekeeper to Hendrahan in Melville.2
Death
They was a benficiary of 's will on 19 April 1857. No 4338
8
Catherine Hogan witnessed the probate of the estate of
Patrick Hanrahan, the Elder
, on 13 May 1859.
8
She died on 19 September 1865 at age ~58 in Mount Pleasant.
1,4
Memorial
There is a memorial to Catherine Hogan at White Springs Cemetery in Black Springs, NSW.
Follow this link
for information and images of her memorial.
Citations
Click on any citation number above to view details of the source document and, possibly, access an image of the source.