George Elliott
b. about 1802, d. 25 October 1838
Person Exhibits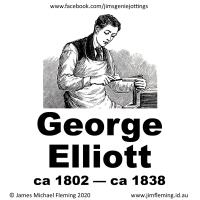 Logo George Elliott 1802
Birth
Family life
Working life
Death
George Elliott died on 25 October 1838 at the Workhouse in London.
1,3,2
He was buried on 26 October 1838 at Holy Trinity Church, St Clement Danes, in London.
2,3
Citations
Click on any citation number above to view details of the source document and, possibly, access an image of the source.