Betty Entwistle
b. March 1764, d. 15 January 1831
Person Exhibits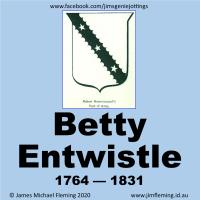 Logo Betty Entwisle 1764
Birth
Betty Entwistle was born in March 1764 in Edgworth.
1,2,3
She was baptized on 1 April 1764 at St Peter's Church in Bolton, Lancashire.
2
Parents
Family life
Death
Betty Entwistle died on 15 January 1831 at age 66 in Edgworth.
1
She was buried on 17 January 1831 in Turton. She was described as "wife of James Grime"
1
Citations
Click on any citation number above to view details of the source document and, possibly, access an image of the source.