Alice Haslam
b. 1740, d. 6 February 1791
Person Exhibits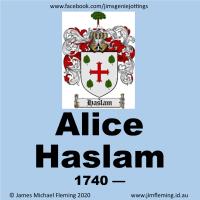 Logo Alice Haslam 1740
Birth
Alice Haslam was born in 1740.
Family life
William Entwistle
and Alice Haslam were married on 15 June 1762 at St Peter's Church in Bolton.
1,2
Death
Alice Haslam died on 6 February 1791 at age ~51 in Edgworth.
3
She was buried on 7 February 1791 at St Ann's Church in Turton.
3,2
Citations
[S1431] Marriage Certificate, William Entwistle and Alice Haslam, 15 Jun 1762, General Register Office, England, London. St Peter's Church, Bolton-le-Moors, Lancashire.
[S1452] "Twists and Doubts", 2020, James Michael Fleming (Cammeray, NSW); Fleming Family History Archive, Sydney.
[S1430] Ancestry, Bur: Entwistle, Alice 1791 at Turton, (Public Record Office, 1791), wife of William Entwistle of Edgeworth, weaver, Burial Register for the Chapelry of Turton, Lancashire.
Click on any citation number above to view details of the source document and, possibly, access an image of the source.