Stella Jolliffe was born at Cowra NSW on 1 May 1910 and died in Canowindra NSW on 7 April 2007. She married firstly Reginald Angus Fleming at Canowindra on 31 January 1929. They were divorced in 1943. She married secondly Johanes Willemsen in St James Church, Sydney on 18 December 1944 but he was lost at sea on 16 March 1945 when his ship MV Sibigo sank while on war service. She married thirdly Jacques Pelissot in Nairoby (Kenya) on 9 November 1949. She and Jacques are buried in Canowindra Cemetery at Canowindra NSW.
Follow these links to see Stella Pelissot's Memorial Card and Eulogy.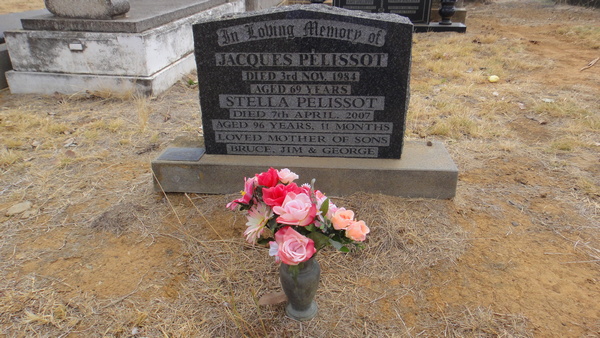 Grave of Stella and Jacques Pelissot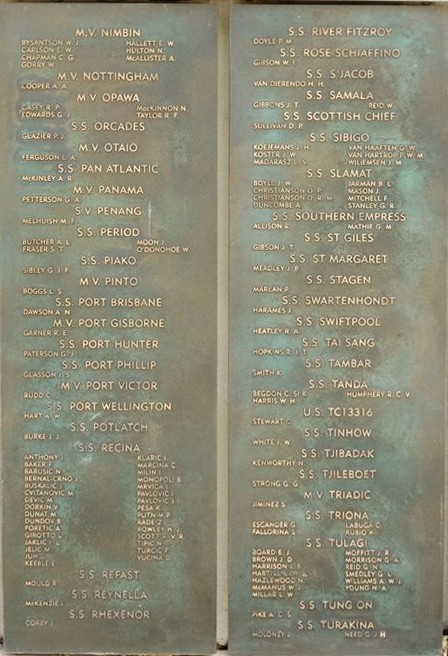 JM Willemsen and his Sibigo shipmates are remembered on the Australian Merchant Navy Memorial in Kings Park, Canberra

The Australian Merchant Navy Memorial in Kings Park, Canberra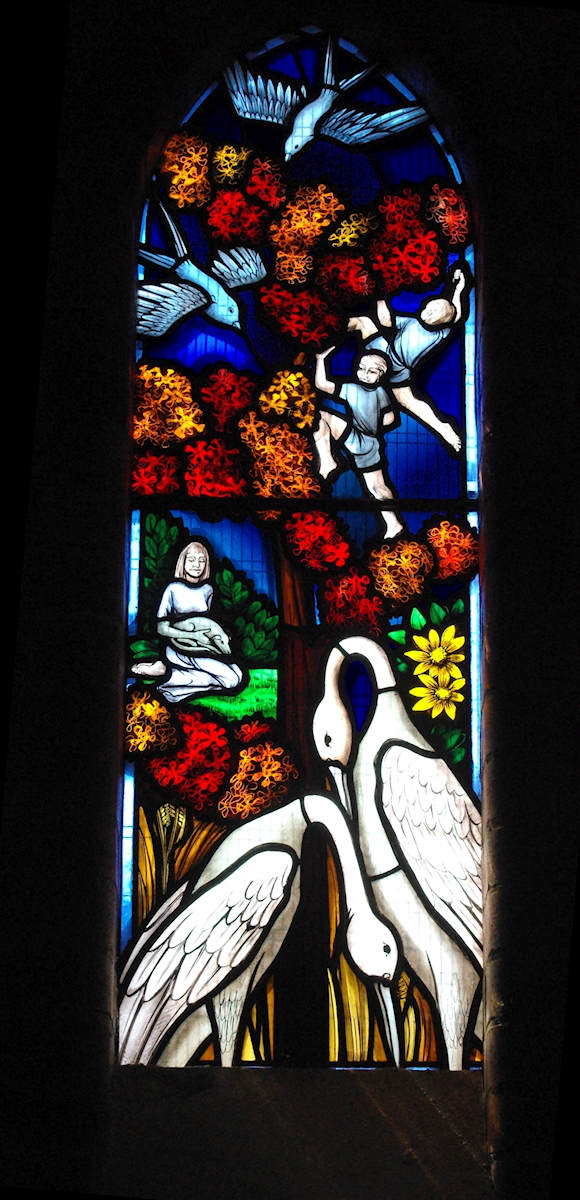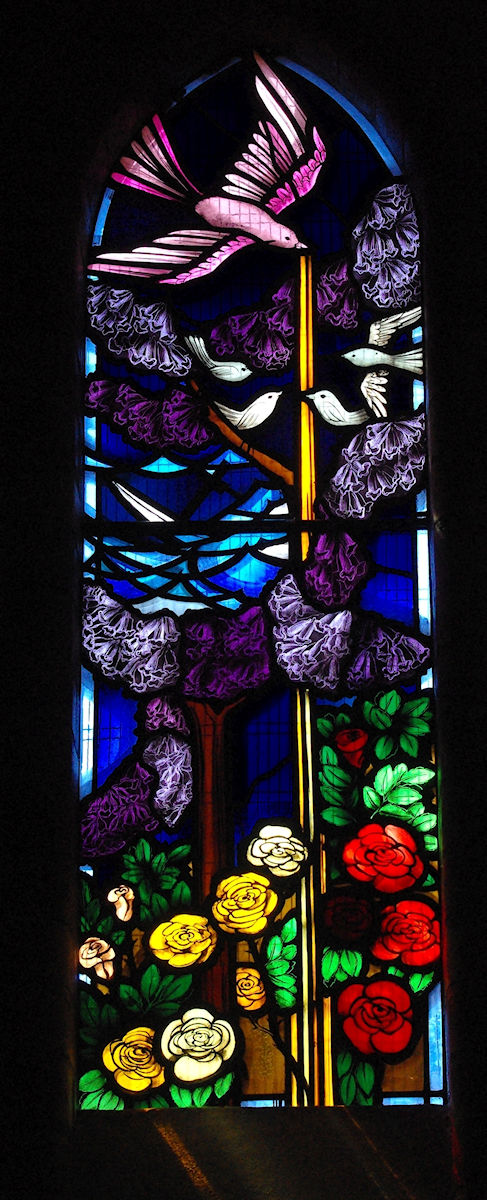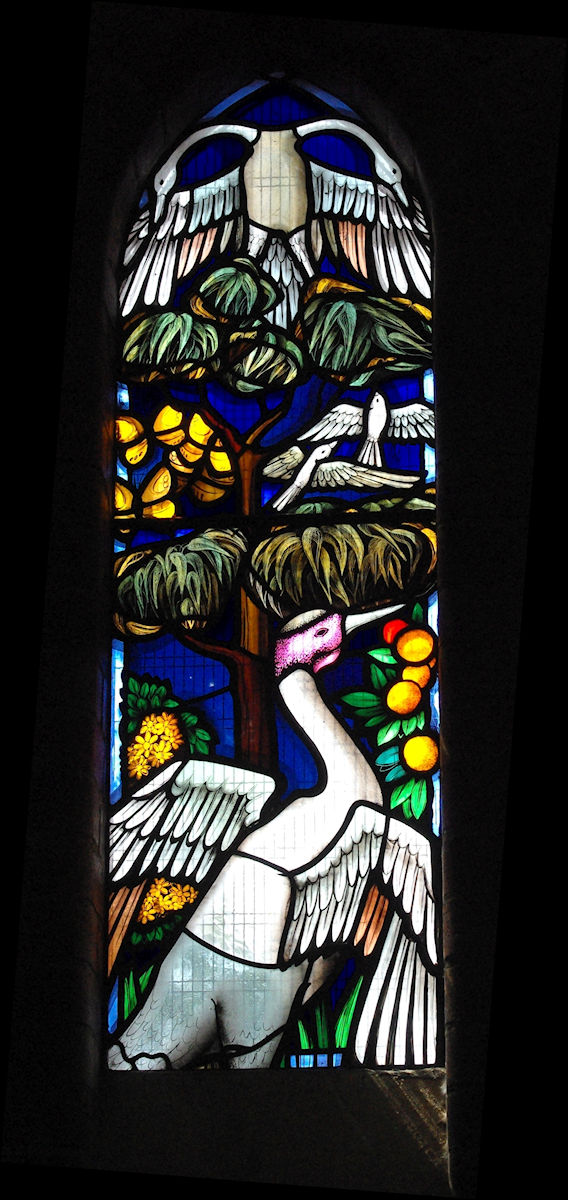 Memorial windows in All Saints Anglican church at Canowindra that were commissioned by Stella Pelissot.
The windows are in memory of her husbands Jon Willemsen and Jacques Pelissot and her parents Jim and Amy Jolliffe. They were made by the Finglinna Studios in Peakhurst NSW.
The first window is dedicated to the memory of her third husband, Jacques Pelissot. The mother with a dog on her lap symbolises faithfulness in marriage, fidelity and watchfulness. The cranes are a symbol of vigilance and loyalty, the swallows of rebirth after winter and, therefore, the resurrection. The children are climbing in the flowering poinciana, symbolising family interest.
The middle window is dedicated to the memory of her second husband, Jon Willemsen. The dove of peace, or Holy Spirit, gives light from above to the fishes swimming in the river of life. The sparrows, the lowliest of birds, also partake of this light. The dangers of the sea refer to Jon's death by shipwreck, but the glory of the jacaranda and the roses show God's care for the world.
The right window is dedicated to her parents, Jim and Amy Jolliffe (nee Gardner). The symbols here are of a general glory of nature but are also specific. The phoenix symbolises immortality - the long family tradition and continuity - and it stands for faith, constancy and the resurrection, as do the butterflies. The brolga reiterates the immortality idea and the larks fly towards heaven.